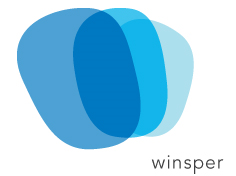 Boston, MA (PRWEB) April 09, 2014
Boston marketing firm Winsper announced Wednesday that after a three month competitive review, it has been selected as the brand agency of record for Janome America. The marketing spend is approximately a seven figure budget.
Winsper has been retained by Janome America for services including qualitative research, analytics, strategy, integrated creative, and social media to help support the ever-growing needs of the consumers and multi-channel dealer network.
"We are in the business of marketing and our approach is focused on building our clients' brand value in a manner that improves their bottom line," said Winsper president Jeff Winsper. "Janome's mission is to create machines that inspire creativity and innovation and are easy to use. We're thrilled that we are able to bring our strategic and creative resources to help build Janome's brand and US presence."
"After we reviewed a variety of top marketing agencies, we chose Winsper because of their strategic and creative experience, dealing with our multi-channel, sell-in, and sell-through sales model, and keeping the consumer's interest at the core. In addition, their thoughtful approach to leverage analytics and research to help focus our investments was refreshing," said Mike McDonagh, Chief Operating Officer, Janome America.
Janome joins Winsper's roster of impressive B2C and B2B experience that includes the Philadelphia Museum of Art, STIHL USA, Teradata Corporation, Spencer Trask & Co., and ToolsGroup.
About Janome
Janome was founded in the 1920s in Japan, and has since grown to become the world's premiere manufacturer of sewing machines and sergers. In 1960, the company purchased New Home and introduced Janome America. As a leader in the sewing industry, Janome strives to provide best-in-class products and services that enable sewists' creativity and innovation.
About Winsper
Winsper is an independent business and marketing consulting firm headquartered in Boston, MA. Winsper devises new ways for its clients to build their brand value over time and sales overnight by providing solutions such as Enterprise Marketing ROI, Insourced Business Leadership, Innovation Strategy, and Customer Engagement. Winsper represents both emerging and established companies in a variety of industries including finance, retail, and technology markets. Client experience includes IBM, STIHL USA, Spencer Trask & Co., SAP Americas, Teradata Corporation, Inglesina, Museum of Fine Arts, Boston, Brevard Brewery, Moonrock Paper, American DG Energy, Hypertherm, and Toffler Associates.
Winsper is also the parent company to Black Ink, the only SaaS-based software that provides business level reporting about marketing performance as seen through the eyes of financial reporting. Winsper is part of Worldwide Partners, representing 85 agencies in 51 countries with over $3.2 billion in capitalized billings.