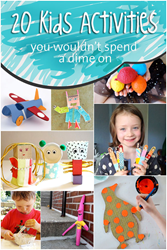 Fun activities for kids do not have to cost a lot of money.
Dallas, Texas (PRWEB) April 10, 2014
Entertaining kids does not have to cost anything. Frugal activities for kids and homemade board games have been released on Kids Activities Blog. Get ready for fun projects using everyday objects and materials found around the house.
The over 20 activities include building forts out of bed sheets and clothes pins, a cookie board game any age kid would love, and an easy to do tutorial to create shoe box doll houses.
Paper plate roses, glittering wizard wands, and a variety of amazing paper mache projects for preschoolers tops the list. Amazing airplanes out of toilet paper, teepees out of twigs and wool, and paper robots are only a few of the many ingenious tips from frugal minded Moms.
Making board games is both fun and easy to do. The 10 ways to make board games include a cute caterpillar game, a family game of checkers with fabric as the board and milk jug lids as the pieces, and a fun math counting game.
Any Lego lover would like to check out the easy to do tutorial to build a Lego board game. The Lego board game includes a set of printable game cards published on Kids Activities Blog.
The rainbow game is perfect to get the kids moving. Place the printable game cards on the floor and toss a bean bag. Whichever activity the bean bag lands on, the kids must complete.
For detailed instructions and to get additional fun activities check out Kids Activities Blog this week. Come get inspired to have a blast together with the kids without exploding the family budget.
About Kids Activities Blog
Kids Activities Blog is a website created by two moms (who collectively have 9 children), Rachel Miller and Holly Homer from June Cleaver Nirvana. It is their daily goal to inspire parents and teachers to play with kids. This interactive website publishes simple things to do with kids twice a day. Kids Activities Blog is a great tool for moms and teachers to find kid-friendly activities that create memories and sneak learning into the fun.