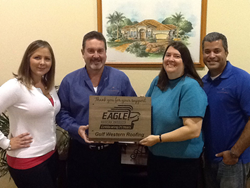 Rialto, Calif. (PRWEB) April 16, 2014
Eagle Roofing Products announced they will spend 2014 celebrating 25 years in the concrete roofing tile business. A number of different promotions and events will be scheduled to show appreciation to the company's customers, partners, employees and friends for their loyalty and service. Eagle Roofing credits these individuals with its ability to become a leader in the concrete roof tile industry.
Eagle's long experience in the roof tile industry and dedication to prompt personal response to its customers' needs have resulted in a well-deserved reputation for quality and service-a reputation that is unmatched. This reputation has been honed over the past quarter century through the owner's commitment to making Eagle a great place to work. The company's employee turnover is incredibly low and what is most impressive is their ability to hire engaged dedicated employees. Doing so has facilitated Eagle's goal of providing industry leading customer engagement.
John Campbell, National Sales and Marketing Director for Eagle Roofing, said in a statement, "Eagle Roofing Products is proud to celebrate its 25th anniversary in 2014. The company has persevered through a commitment to hiring the best people and creating an environment in which they may thrive." He added, "Our employees are the foundation that allows us to be a 25-year-old, customer service-driven company that happens to produce the finest concrete roof tile in the industry."
About Eagle Roofing Products: Eagle Roofing Products is a division of Burlingame Industries, a California-based, privately held family organization that has been in the concrete tile industry for over 40 years. Founded in 1989 with five employees, Eagle has grown to four manufacturing plants, seven design centers and a work force of 500 employees, specializing in providing concrete tile roofing solutions for the building industry. For additional information on Eagle Roofing Products, visit http://www.eagleroofing.com, or contact us at 1-888-TILE ROOF.
###