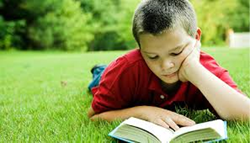 At Center School, we offer a 4:1 student-teacher ratio in the summer, allowing us to provide individualized attention often lacking in a large classroom setting.
Abington, PA (PRWEB) April 08, 2014
Center School, a school for children with dyslexia and other learning differences, has announced its Summer Reading Program for 2014. Partnering once again with LaSalle University and their Master's degree candidates in Reading, Center School will offer students in grades 1-6 a four-week morning reading program, "Investigate the Incredible World of Insects."
Students will learn through hands-on activities built around the theme, and reading, writing, listening, and speaking skills are emphasized. Students receive systematic and strategic instruction in phonemic awareness, phonics, fluency, vocabulary and comprehension. Literature, art, technology, research and writing are all integrated to enhance the theme.
"For many students, the summer months are a critical time to continue skill development," said Jeffrey Nick, Center School's Head of School. "Offering a 4:1 student-teacher ratio allows students to have the individualized attention often lacking in a large classroom setting."
For the older students, study strategies and organizational skills are emphasized. The emphasis on small group instruction assures each student of individualized attention in a warm, welcoming environment. All summer program teachers are certified and obtaining a Master's degree in Reading or Reading Specialist Certification. Specialist and teachers work under the direction of LaSalle University professors and Center School faculty.
The program, which begins June 30, runs each day from 8:30 am until noon and ends July 25.
Center School offers an afternoon program, "The Art of Summer Fun!" which also runs June 30 – July 25 from noon – 3:30 p.m., and is designed for those who enjoy hands-on activities while developing executive function and social skills. Taught by Center School faculty, sessions will include painting, drawing and sculpture opportunities to challenge a child's creativity. After camp care, from 3:30 – 5:30 p.m., will be available on a weekly basis.
For more information on Center School's summer programs, visit the web site at http://www.centerschoolpa.org or call the school at 215-657-2200.
Center School is an independent, student-centric school with a 25-year history of providing proven education methods for children in grades 1-8 who learn differently. Our highly qualified and experienced faculty delivers personalized instruction to unlock students' potential in order to prepare them to transition into the most appropriate academic environment.