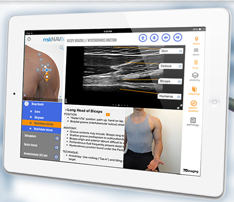 Magpie Software has been a great resource for us to develop this connected care application.
Westminster, Colorado (PRWEB) April 08, 2014
Magpie Software has developed a new connected care application, mskNAV™, for 7D Imaging that provides interactive education, real-time reference guides and images for healthcare professionals performing musculoskeletal (MSK) ultrasound examinations. The mskNAV™ application is developed for tablet computers and is to be used in conjunction with any ultrasound machine. The software provides point-of-care ultrasound education, protocols of ultrasound exams, ultrasound scanning videos and image libraries of "normal" and "pathology" views, technique tips, and sophisticated 3D "peel away" anatomy for patient education. The mskNAV™ modules include Full Musculoskeletal Body, Upper Extremity and Lower Extremity.
"Magpie Software has been a great resource for us to develop this connected care application," said Dr. Cliff Gronseth, CEO of 7D Imaging. "They provided an excellent UI/UX design and did a great job in the development and evolution of the mskNAV™ application."
Magpie has tremendous depth of expertise from the Systems Engineers who help define requirements to the Software Developers and Project Managers who develop and deliver the project. The Magpie Agile process allows requirements and the software application to evolve through collaboration between the customer and the development team. And, most importantly, this process provides a customer demonstration of progress every 2 weeks.
"We are excited to be working with 7D Imaging as their software development partner," said Margaret Burd, CEO, Magpie Software Services. "The telehealth and connected care markets are quickly expanding, and Magpie's knowledgeable and enthusiastic staff can help companies develop excellent software to leapfrog the competition."
About 7D Imaging, Inc.
Based in Boulder, Colorado, 7D Imaging is passionate about developing powerful software solutions to enhance education of ultrasonographers, and ultimately bring better patient care using technology. 7D Imaging's mission is to provide ultrasound educational products that will increase ultrasound usage globally as a cost-effective, accurate, safe diagnostic tool. For more information, please visit http://www.msknav.com, or info(at)msknav(dot)com.
About Magpie Software
Based in Denver, Colorado, Magpie Software is an Agile based outsourced software development firm for telehealth, connected care, smart energy, telecom and membership-based organizations. They are widely recognized for their deep and broad technical skills, customer-centric values, and ability to deliver working software on-time, to spec and within budget.
Magpie engages in stand-alone projects or as an extension of engineering teams in small to large companies. Magpie's goal is to deliver high quality software and to be a partner with whom you enjoy doing business. For more information, please visit http://www.magpiesw.com.