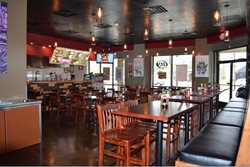 Tyler, TX (PRWEB) April 08, 2014
Leading commercial furniture distributor, Restaurant Furniture.net recently teamed up with Wok Box ins Tyler, Texas to launch a successful grand opening of its Asian themed fast casual restaurant.
Wok Box is a fast food casual dining restaurant. It offers food from at least 10 different Asian countries. Every item at Wok Box is made fresh everyday with the freshly cut vegetables and grilled protein in the Wok. Some of the main dishes include: Indian Butter Chicken, Sweet Mongolian, and Breaded Crispy Chicken following the delightful appetizers Spring Rolls and Samosas. Wok Box takes pride in their fast, friendly customer service. Wok Box also has locations in Oregon, Arizona, Colorado, Florida and Canada.
Bharat Patel, the owner contacted Restaurant Furniture.net to furnish the new 1800 square foot location. He chose Restaurant Furniture.net to their reputation as a valued manufacturer of high quality commercial furniture and competitive prices. He purchased restaurant chairs, bar stools to table tops.
For chairs the owner decided to go with classic Schoolhouse Wood Chair and matching bar stool in mahogany finish with solid wood seats. As with most of Restaurant Furniture.net's wood furniture, the Schoolhouse Wood Chairs and Bar Stools are made in the USA of solid wood from responsibly harvested wood. The wood bar stools and chairs are available in 5 standard finishes: mahogany, walnut, natural, cherry and dark mahogany.
"The Schoolhouse Wood Chairs and matching bar stools were just what the owner wanted to complete the classic look he was going for," said David M., salesperson for Restaurant Furniture.net. The Schoolhouse Wood Chair is on sale for $61 and the bar stools sell for just $77. Restaurant Furniture.net also makes custom finishes for an additional charge. Customers also have the choice of vinyl padded seats, which are made in the U.S.A. are available in vinyl or fabric in a wide selection of colors and patterns and can also be custom made out of any material to the customer's specifications. Solid wood seats are also available and a custom finish can be made for an additional charge.
For tables, he decided to go with Solid Wood Table Top, in mahogany finish with eased edge. The table tops, which are also made in the USA start at as low as $84. The tabletops are also available in premium 2" thick solid wood. "The premium finish of the table tops matched the mahogany finish of the chairs and bar stools, which was important for the owner," remarked David.
Browse Restaurant Furniture.net's full selection of commercial grade chairs, bar stools, table tops, table bases, booths and patio furniture at http://www.restaurantfurniture.net or talk to a customer service representative at (888) 409-1115.
Wok Box is located at 3502 S. Broadway Ave., in Tyler, TX. They can be contacted at: (903) 944-7878 For more information you can visit their website at http://wokbox.us/storetx01.