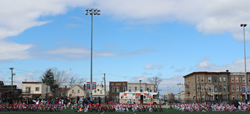 (PRWEB) April 07, 2014
On Saturday April 5, 2014, Emerald Financial Resources, a Massachusetts Mutual Life Insurance Company (MassMutual) general agency, located in Bridgewater, NJ partnered with CarePoint Health for its 5th annual Bikes 4 Kids program. "It is our belief that every child deserves an active, healthy childhood and Emerald's Hispanic Advisory Team is committed to making this happen," said Nancy Aleman, one of the members of Emerald's Hispanic Advisory Team.
Emerald's Hispanic Advisory Team, a diverse group of professional financial agents of Hispanic backgrounds who specialize in serving the Hispanic Community, providing the necessary information and education to plan their financial future and protect their families, along with CarePoint Health, raised over $27,000 to purchase 300 bicycles, locks and helmets, which were discounted by the Walmart in Secaucus, NJ, and awarded to 300 children on the free or reduced lunch program within Hudson County. "CarePoint Health is dedicated to the Hudson County communities we serve and we are proud to be the premier sponsor of this event," said Allyson Miller, VP Marketing and Public Relations. The children who were chosen completed an essay on why they feel it is important to have a bike.
Pensa Movers of Union City donated their trucks to deliver the bikes to the event that was held at the Jose Marti Freshman Academy located at 1800 Summit Ave, Union City, NJ. The day's events included instruction on nutrition, safety, exercise, and theft protection by the Union City Police Department.
CarePoint Health brings quality, patient-focused health care to Hudson County. Combining the resources of three area hospitals - Bayonne Medical Center, Christ Hospital in Jersey City, and Hoboken University Medical Center - CarePoint Health provides a new approach to deliver health care that puts the patient front and center. We leverage a network of top doctors, nurses and other medical professionals whose expertise and attentiveness work together to provide complete coordination of care, from the doctor's office to the hospital to the home. Patients benefit from the expertise and capabilities of a broad network of leading specialists and specialized technology. And at CarePoint Health, all of our medical professionals emphasize preventive medicine and focus on educating patients to make healthy life choices. For more information on our facilities, partners and services, visit our website, http://www.carepointhealth.org.
Emerald Financial Resources was founded in 1998 by Michael Vesuvio in Bridgewater, NJ with his team of seventeen founding members. The agency has since grown to four locations throughout New Jersey and the professional staff numbers 54 agents and 27 support personnel. The agency has 10,105* policy owners with a total of $3,253,749,620 **of life insurance in force according to MassMutual's 2012 measures of Community Value report.
PRP1
Founded in 1851, MassMutual is a leading mutual life insurance company that is run for the benefit of its members and participating policy owners. The company has a long history of financial strength and strong performance, and although dividends are not guaranteed, Mass Mutual has paid dividends to eligible participating policy owners consistently since the 1860s. With whole life insurance as its foundation, MassMutual provides products to help meet the financial needs of clients, such as life insurance, disability income insurance, long-term care insurance, retirement/401(k) plan services, and annuities. In addition, the company's strong and growing network of financial professionals help clients make good financial decisions for the long-term.
MassMutual Financial Group is a marketing name for Massachusetts Mutual Life Insurance Company (MassMutual) and its affiliated companies and sales representatives. MassMutual is headquartered in Springfield, Massachusetts and its major affiliates include: Babson Capital Management LLC; Baring Asset Management Limited; Cornerstone Real Estate Advisers LLC; The First Mercantile Trust Company; MassMutual International LLC; MML Investors Services, LLC, Member FINRA and SIPC; OppenheimerFunds, Inc. and the MassMutual Trust Company, FSB.
CRN201506-173461
*An insured, owner, or payer of a Massachusetts Mutual Life Insurance Company (MassMutual) policy or contract.
**Amount of individual life insurance in force as of 12/31/2011 related to products issued by Massachusetts Mutual Life Insurance Company and its subsidiaries, C.M.. Life Insurance Company and MM Bay State Life Insurance Company.