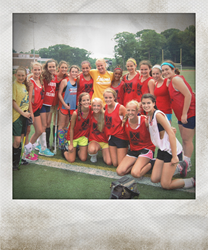 Summer field hockey camp provides a great opportunity for each player to improve both individual and team skills, as well as test those skills in game type conditions. - Andrew Griffiths, Head Coach at Old Dominion University
Fairfield, CT (PRWEB) April 09, 2014
Summer field hockey camps leader Revolution Field Hockey has published their 2014 summer field hockey camp schedule. Camps will be offered in 18 states across the country where campers will get the chance to learn from and play with the top coaches and players in field hockey today. Both overnight and day camps, as well as evening clinics will be offered. Some notable new locations include Bates College (Maine), Army Navy Academy (CA), and the Berkshire School (MA). Also new this year is the Top of the Class Prospect Camp at Choate Rosemary Hall. This unique field hockey camp experience is designed to match high achieving student-athletes with coaches from competitive academic colleges.
Revolution Field Hockey Camps offer a unique balance between instruction and scrimmaging which give campers the opportunity to learn new skills and improve upon the skills that they already have. The spring and summer time is the perfect time for field hockey players to begin thinking about their next season and making sure they will be playing at the best of their ability.
Old Dominion University head coach Andrew Griffiths, formerly of Team Canada Field Hockey and current Revolution Field Hockey Camps Director says, "summer field hockey camp provides a great opportunity for each player to improve their individual skills in a learning environment and test those skills in game type conditions. Campers will leave the camp with the confidence to apply what they have learned to their fall season of field hockey."
Field hockey is one of the fastest growing sports in the country being played competitively at the youth, high school and college level. Revolution Field Hockey Camps feature some of the top college coaches from around the country who provide personal instruction to each camper whether they are just a beginner or a serious player. Coaches come from colleges all over the country including Duke, Maryland, Johns Hopkins, Stanford and many more.
Revolution Field Hockey Camps are considered some of the finest camps in the country because of the dedication of the camp coaching staffs. They make sure that each camper receives the best instruction possible on top of the most impressive camp experience where campers can extract with other field hockey players and make new friends. "This was such a productive and fun camp. I am so confident in my new skills and excited about my new friends! I would rate this camp as my number one sports camp experience so far," said a camper following the 2013 camp at Montclair State University.
Interested prospective campers can learn more about Revolution Field Hockey Camps and view the 2014 schedule at http://www.fhcamps.com.
Revolution Field Hockey is a division of eCamps, Inc. eCamps is a nationally recognized provider of summer sports camps. Other camps include the adidas Tennis Camps, GameBreaker Lacrosse Camps, Revolution Softball Camps, International Squash Academy, US Rugby Camps and Fusion Swim Camps.