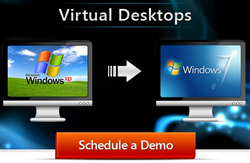 These Virtual Desktops can be easily accessed through existing hardware, thus saving the huge cost of hardware replacement.
(PRWEB) April 09, 2014
The business world is in chaos as the date approaches when Microsoft will stop offering technical support for Windows XP. This means that there will be no security patches, technical support or any updates whatsoever for Windows XP. This lack of maintenance will make Windows XP extremely vulnerable to hackers. Why do businesses need to worry?
Since most companies have been running their systems on Windows XP, they will have to migrate to a newer version of Windows OS. No company can risk the security of confidential data and information by continuing to use an OS with no technical support. So it's essential for every business to upgrade their systems with Windows versions launched after XP. These migrations will involve huge unavoidable licensing costs.
Another factor that bothers most organizations is that they cannot upgrade their OS without first upgrading their hardware. This is because most of the current machines are not compatible with the latest versions of Windows, so the subsequent upgrade will cost them massively. Hardware replacement costs and OS license fees for an entire organization can be a huge financial hit. Keeping these factors in mind, iVDI offers a perfect solution for businesses and companies.
iVDI proposes that a complete replacement of hardware can be avoided by deploying Virtual Desktops across the organization. These Virtual Desktops can be easily accessed through existing hardware, thus saving the huge cost of hardware replacement. Additionally, users get Windows 7 Experience along with their Virtual Desktops.
These desktops will run through either iVDI's Cloud servers or the company's in-house deployed servers. In addition, the centralized management system of these desktops brings in multiple benefits to the company. By centralizing desktops and data, information assets can be controlled more efficiently by the organization, and a centralized security system can also be applied if needed (data leak prevention for example). Further, applications and data stored on Virtual Desktops can be accessed using any device that will support mobility through the BYOD method. Centralized saving and management of data also ensures secure backup.
A free Demo Trial is also available: https://billing.ivdi.com/register.php
iVDI owns its Public Clouds in US and UK regions. Companies have the option to either go for "In-house Deployment" or for "Cloud Servers Deployment". With Virtual Desktops deployed across the organization, one doesn't need to worry about the big question, i.e. What will happen once Windows XP support ends?
About iVDI:
iVDI is founded and operated by Hong Kong based GZ system Ltd. iVDI mainly offers Virtual/Cloud Desktops and Virtual Browsers to its end-users. These desktops and browsers are accessible from anywhere using any compatible device that are powered by Citrix serving Windows 7 experience based on XenApp and XenDesktop technologies. With its 3 Public Clouds located in US, UK and Singapore, iVDI ensures high level service to its end-users.