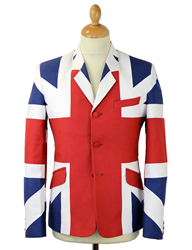 These bands and mod icons really strike a chord with our customers. Music and fashion often go hand in hand together, and it's one of the central themes of our clothing range.
Scarborough, North Yorkshire (PRWEB UK) 8 April 2014
A mod and retro icon which is forever emblazoned in the annals of British music history, the Union Jack blazer is about to make a comeback. Atom Retro have just taken stock of 'The Townshend'; an interpretation of this iconic style by Atom Retro's house brand, Madcap England.
With a name that gives away its cultural heritage, 'The Townshend' is a homage to 1960s style as Madcap England forge a likely partnership with pop art, abstract inspiration and bold colours - and named after The Who's Pete Townshend of course. The blazer is designed with all the essential mod paradigms in mind - self covered 3 button fasten, slim lapels and a slim fit cut, with the illusion of the flag design.
Alister Poulton, director of Atom Retro's parent company Indie Apparel, says, "It is to all intents and purposes a Union Jack, but there's an abstract element in there. Whilst it screams Union Jack, it's a little bit of a trick on the eye with bold shapes conjuring up a flag like pattern. It's easy to see the flag on the reverse where the panel isn't perturbed by the single breasted fastening and lapels."
The jacket's bold design was inspired by the union jack blazers made popular by Pete Townshend of The Who in the 1960s. Alister says, "It was a conscious decision to get an effect of a whole flag, cut and stitched to fit rather than replicating smaller flags over and over. We wanted it a bit like Pete Townshend's jacket from The Who's famous photo session with photographer Colin Jones in 1966. You'll either love it or hate it!"
The style has been worn by the likes of The Who's John Entwistle and Pete Townshend as well as Paul Weller and The Jam.
"These bands and mod icons really strike a chord with our customers," says Alister. "Music and fashion often go hand in hand together, and it's one of the central themes of our clothing range."
As well as the Union Jack blazer, Madcap England current collection includes other items inspired by musicians and bands, including a zip through cardigan which was inspired by Elvis Presley's jacket in the 1968 film, Speedway, striped jumpers inspired by styles worn by the Rolling Stones' Brian Jones and racing jumpers and jackets inspired by clothing worn by Keith Moon from The Who. There is even some bold striped flares - a homage to a style worn by The Beatles' George Harrison in the late sixties. "Customers often contact us with pictures asking if we can stock something like what someone is wearing," Alister explains. "We try and accommodate popular requests - the striped flares being an example of this. George Harrison wore some striped flares for the famous Beatles 'Mad Day Out' photo sessions, and it's something we were often asked for. We introduced them about 18 months ago and now we do three colours!"
The Union Jack blazer is the latest addition to this. Alister says, "We are well aware there is a market for such a statement garment as feedback from our customers has repeatedly told us so. We just needed to get it right."
The Union Jack blazer is certainly a garment to take centre stage, for those seeking to add an edge to their on stage persona or perhaps to merely emulate the look of heroes and style icons.
About Atom Retro:
Atom Retro is a UK leading clothing retailer, boasting the largest range of authentic, high quality retro and mod clothing for men and women online. The Atom Retro range is inspired by the Carnaby Street boutiques of the sixties and includes an ever growing list of iconic brands and original, independent designers. Browse Atom Retro's extensive range of retro and mod clothing at http://www.atomretro.com.