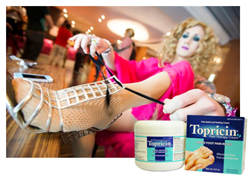 When you love high heels--but they don't love your feet--Topricin Foot Therapy Cream Offers TLC.
Rhinbeck, NY (PRWEB) April 07, 2014
Many performers and "fashionistas" favor extreme stilettos—but their feet pay the price. Fortunately, fabulous footwear doesn't have to be torturous, and the fiercest feet can be pain free by following advice from the experts at Topical BioMedics, Inc., the makers of Topricin natural pain relief and healing cream formulas.
Topricin Foot Therapy Cream targets foot and ankle pain: safe, natural...no parabens, petroleum, counter irritants, or harsh chemicals... no grease, odor, or hot/cold sensation....pure relief, fueled by nature, not by chemicals.
As heels rise, so do foot problems. There's no need to suffer when strutting in style with these footwear fixes:
--Try shoes on at end of the day as feet swell as you stand and walk around
--Try on both pairs of shoes as your feet may not be identical in size and shoes may not be identical in size either
--Stretch tight shoes with shoe stretcher
--Massage feet with Topricin Foot Therapy cream before strutting in stilettos to reduce pain/risk of injury
--Elevate legs for 15–20 minutes to reduce swelling
--Run feet over a reflexology roller or gold ball to massage soles
--Massage legs, feet, and ankles after wearing high heels, applying Topricin Foot Therapy for maximum relief of muscle aches and burning, throbbing feet
--At end of day, soak feet in warm water with Epsom salts, adding a few drops of pure essential oils. Dry well, and massage feet ankles, and legs with Topricin Foot Therapy Cream – divine!
EXTRA, EXTRA:
Topricin Foot Therapy Cream moisturizes dry, cracked skin, breaks down callouses, eliminates ashy heels...Also great for reducing swollen ankles and feet, works on shin splints, leg cramps, sprains, strains, Plantar fasciitis, Achilles tendonitis....It's the perfect TLC for tender feet!
WHAT LIFESTYLE EXPERTS ARE SAYING:
"Let's just all say it's a genius product....I awoke with zero pain, let me repeat myself: zero pain. Think of it like waking up sans hangover after polishing off a bottle of your favorite Prosecco the night before." --A Style File
"It is with utter delight, awe, and RELIEF that I write this review. In fact, I'm not sure how or why I've been running the streets of NYC for even a day without Topricin Foot Therapy Cream. It's absolutely amazing." --Modern Sage Leah Guy, host, A Girl Named Guy
HOW TOPRICIN WORKS:
Topricin is a healing technology with natural cellular biomedicines that support and assist the body by helping the subcutaneous skin layers of the feet to drain toxins and excess fluids from the tissues, which increased blood flow to help heal the damage that is causing the pain. Patented for neuropathy, the patented formula is safe for diabetics.
ABOUT TOPICAL BIOMEDICS
20 years in business and a Certified B Corporation, Topical BioMedics, Inc., is the research and development leader in topical patented natural biomedicines for pain relief. The company's flagship product, Topricin® Pain Relief and Healing Cream, was introduced in 1994 and is now a leading natural therapeutic brand. A combination biomedicine formula, Topricin has been awarded a patent for the treatment of pain associated with fibromyalgia and neuropathy, was listed among the Top 100 Green Products of 2012 by Healthy Holistic Living.
The Topricin family of natural healing products also includes Topricin Foot Therapy Cream, specially formulated to treat painful foot and ankle issues and conditions, and Topricin for Children, which received the Parent Tested Parent Approved Seal of Approval (with 5% of sales donated to pediatric cancer foundation). Made in the U.S.A., all Topricin products are federally-regulated over-the-counter medicines with no known side effects, no parabens, petroleum, or other harsh chemicals, no grease, and no odor.
Topricin is available in independent pharmacies, natural food and co-op stores nationwide, including Whole Foods, Sprouts, Pharmaca, The Vitamin Shoppe, Fred Meyer, Wegmans, CVS (Foot Care Section), Walgreens (Diabetic Section), and other fine retailers, as well as directly from the company.
For more information visit http://www.topricin.com.