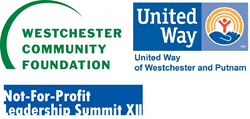 Westchester County, N.Y. (PRWEB) April 07, 2014
The Westchester Community Foundation and United Way of Westchester and Putnam are partnering together again to present the Not-For-Profit Leadership Summit XII on Monday, May 5, 2014. This year's event, held from 8:00 a.m. to 4:00 p.m. at the Doubletree Hotel Tarrytown, features keynote speakers author Andrew Solomon and New York State InterAgency Coordinator for Not-for-Profit Services Fran Barrett.
Solomon is an acclaimed writer and lecturer who explores the subjects of politics, culture, and psychology. His latest book, Far From the Tree: Parents, Children & the Search for Identity, was awarded the New York Times Ten Best Books of 2012 and the 2012 National Book Critics Circle Award for nonfiction. Beyond his writing, Solomon is an outspoken activist and philanthropist for many causes in mental health, LGBT rights, education and the arts.
Barrett has dedicated herself to improving lives and providing opportunities for poor New Yorkers for four decades. She founded the nonprofit consulting group, CRE, in 1979 to help nonprofit leaders build strong and effective infrastructures to position their organizations to affect poverty. In 2005, Barrett was inducted into Thirteen/WNET's Community Hall of Fame, and in 2006 she received the Brooke Russell Astor Award to honor her as "an outstanding individual whose dedication and perseverance have made an important contribution toward improving the quality of life in New York City." She was appointed by Governor Cuomo to her current position as liaison to the nonprofit sector in 2012.
"Westchester professional and volunteer leaders will be impressed and enlightened by Andrew Solomon and Fran Barrett's widespread knowledge of the not-for-profit sector," said Carlene Gentilesco, interim CEO and COO of United Way of Westchester and Putnam. "We are thrilled that they are part of this year's Summit and know that they will inspire local nonprofits to accomplish even more."
After breakfast, attendees will be able to choose from sixteen breakout sessions on topics such as branding, leadership transition, organizational restructuring, disaster risk management, crowd funding, advocacy and public policy, social media in the workplace, strategic planning, and profitable fundraising techniques, among others.
"The nonprofit sector is integral to both the economy and quality of life of Westchester," said Catherine Marsh, executive director of the Westchester Community Foundation. "This Summit brings together local nonprofit leaders to identify new leadership strategies to meet evolving challenges and opportunities and build organizations that excel."
The Leadership Summit is underwritten in part by the TD Charitable Foundation. Gold sponsorship is provided by ConEdison and the afternoon reception is sponsored by Rollins Insurance. Other sponsors include BDO, Chase, Council Services Plus, ARC of Westchester, Association of Development Officers, Fordham University – Westchester Campus, Mutual of America, Nonprofit Westchester, and the Helene & Grant Wilson Center for Social Entrepreneurship at Pace University.
There is a $30 non-refundable event fee for a nonprofit's initial reservation. Each additional participant from the same organization is $20. Walk-in registration is $35, space permitting. Sponsorships and vendor tables are also available. The Doubletree Hotel Tarrytown is located at 455 S. Broadway, Tarrytown, NY 10591. For more information, please call the Summit Hotline at 914-997-6700 x704. To learn about sponsorships, becoming a vendor exhibitor, and registration, please visit http://www.uwwp.org/summit.shtml.
About the Westchester Community Foundation:
The Westchester Community Foundation (WCF) is a nonprofit community endowment for the benefit of Westchester County. Its mission is to develop and manage philanthropic resources, and to distribute them in a way that is responsive to donor interests and community needs. The Foundation actively promotes charitable giving on behalf of the area's nonprofit organizations. WCF is a division of The New York Community Trust, one of the largest community foundations in the country with assets of approximately $2.2 billion. The Foundation can be reached at (914) 948-5166 or by visiting http://www.wcf-ny.org.
About United Way of Westchester and Putnam:
For the past 50 years, United Way of Westchester and Putnam has operated with the fundamental belief that all people deserve a quality education, enough income to support a family, and opportunities for a healthy lifestyle. United Way works with agency partners, government, businesses and community leaders to solve problems that are too complex for any one entity alone. All contributions go toward improving the education, income, and health of the children, youth and families throughout Westchester and Putnam. United Way's Hudson Valley Region 2-1-1, covering Westchester and Putnam as well as Dutchess, Orange, Rockland, Sullivan and Ulster counties, answers up to 500 calls and 1,000 online inquiries per day ranging from tax, heating, and mortgage questions to childcare, basic needs, natural disaster and crisis calls. United Way of Westchester and Putnam is at 336 Central Park Ave., White Plains, NY 10606. They can be reached at 914-997-6700 or by visiting http://www.uwwp.org. Follow United Way on Facebook (http://www.facebook.com/UnitedWayWP) and Twitter (@UnitedWayWP) for the latest news and updates.