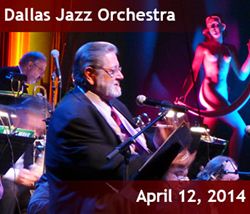 Duncan, OK (PRWEB) April 09, 2014
Take the classic energy of a twenty piece orchestra. Add to that a bit of Southwestern spice. Throw in some contemporary music arrangements and revisit the classics. This blend of ingredients creates the sizzling sound of the Galen Jeter Orchestra, the original "Dallas Jazz Orchestra".
The Chisholm Trail Arts Council (CTAC) presents the Grammy nominated Galen Jeter Orchestra on the Simmons Center's acclaimed Jack A Maurer Convention Center stage on Saturday, April 12, 2014. Known nationally and internationally as the premier "First Call Orchestra", the orchestra is boasting their 39th Season of Live Jazz, Big Band, Swing and Pop Libraries. It will be a show not to be missed. The box office will open at 6:30 pm, with the performance starting at 7:30 pm. Tickets are available online at http://www.chisholmtrailarts.com or by calling the Simmons Center at 580-252-2900 ext. 240.
To further the mission of CTAC, a masters class will be held with the orchestra that afternoon prior to the performance. All band students, regardless of age and experience level are invited to participate. To enroll in this once in a lifetime opportunity, contact the CTAC office at 580-252-4160 or director(at)chisholmtrailarts(dot)com.
The Duncan Convention and Visitors Bureau and the Chisholm Trail Arts Council thank the Duncan Area Economic Development Foundation for sponsoring the Dallas Jazz Orchestra. Their sponsorship, along with grants from the Oklahoma Arts Council, The McCasland Foundation and others make bringing this exciting performance possible.