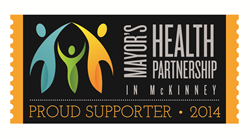 Get Fit, Get Healthy, Get Racing!
McKinney, Texas (PRWEB) April 12, 2014
Get Racing is proud to announce a new race, Trek the Trails Half and 5K. This race is a "train to" event for the Mayor's Health Partnership in McKinney. The race will benefit Pulmonary Fibrosis research.
The 1st Annual Trek the Trails Half and 5K will take place on April 19th, 2014 at McKinney Boyd High School. Get Racing is a proud partner of the Mayors Health Partnership in McKinney. Our mission is "to promote a healthy, active community" in part by providing low- or no-cost resources to the community to become more active and healthy overall. The race is one of these opportunities.
Trek the Trails is on a scenic, paved trail. The half and 5K both start at the high school and run down Lake Forest Dr to the Wilson Creek Trailhead. The 5K is an "out and back" course while the half marathon travels almost to Town Lake and then heads up a challenging hill on Valley Creek winding its way back to the high school. Course maps can be viewed on our website http://www.GetRacing.org. The cutoff time for the half marathon will be 3.5 hours. There will be water on the course at 7 locations. If 13.1 is too long then register for the 5K. Teams of 5 or more people will be eligible for the fastest team award. Upon completion of the race all competitors will be awarded a custom finishers medal. We will have standard age group awards for the 5K and the half and to keep things interesting there will be random prize drawings too but you must be present to win! All preregistered runners will receive custom race tech shirts. The race will be timed by timed by Race Chip Timing. Race results will be posted at the event and will be posted online after the race. Don't delay, signup today and tell a friend. You will want to be part of this great 1st time event.
The race will benefit Pulmonary Fibrosis Research, a devastating lung disease that strikes 48,000 people per year and more people die from it each year than either breast or lung cancer. Raytheon is sponsoring 50 CHAMPION athletes to "run" for those people suffering from pulmonary fibrosis that cannot participate. Tinké, by Zensorium, has donated blood oxygen and wellness monitors to be given to the overall winners of both the 5K and half marathon.
Get Racing (formerly Stonebridge Racers) was founded in 2001 by Michelle Huddleston. Get Racing is a full service professional race production company. The staff of Get Racing are athletes themselves and has over 50 years of combined experience. They are dedicated to producing both fun and safe events for the community. From a charity fun run to a triathlon, Get Racing events have something for everyone. They believe in a healthy lifestyle and want to support that belief by creating events that get people outside exercising. Visit http://www.GETRACING.org for a list of upcoming races.