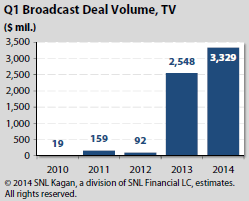 Monterey, CA (PRWEB) April 07, 2014
Announced today, broadcast station M&A volume reached $3.65 billion in Q1 2014, up from $2.68 billion in Q1 of 2013, according to the SNL Kagan Quarterly Broadcast M&A data. TV station consolidation once again drove the trading volume. A total of 309 stations traded, of which 202 were radio and 107 were TV stations. The average TV station price in Q1 was $31.1 million, vs. just $1.6 million for radio.
On the TV side, Q1 of 2014 continued the previous year's pattern of more than a billion dollars' worth of activity each quarter. The largest deal by price, the merger between Media General, Inc. and LIN Media LLC, was valued at $2.6 billion. The 9.0x forward multiple of this transaction pushed the overall average for Q1 2014 to 8.9x. Without the LIN/MEG merger, the TV multiple would have been 8.5x, which is still 0.3 points higher than 2013's average.
Aside from the big one, the most notable TV deals in Q1 were the $364.0 million sale of Post-Newsweek's WPLG in Miami to Berkshire Hathaway Inc., and the $190.0 million sale of nine stations from Quincy Newspapers Inc. and Sagamore Hill Broadcasting LLC to Granite Broadcasting Corp. and Malara Broadcast Group Inc.
Radio deal volume exceeded $300 million for only the third time in the last eight quarters. The top deal was the $131.0 million / 8.5x cash flow sale of New York's WBLS-FM/WLIB-AM from YMF Media LLC to Emmis Communications Corporation, followed by the $74.0 million sale of ten stations from South Central Communications Corporation to SummitMedia, LLC. Compared to the 2013 average of 7.0x, the average radio cash flow multiple rose by half a point in Q1 14. The outsize radio deal volume in 2011 was due to the Cumulus/Citadel deal valued at $2.28 billion and the Hubbard/Bonneville transaction at $505 million.
About SNL Kagan
SNL Kagan, a division of SNL Financial LC, is a comprehensive resource for financial intelligence in the media and communications sector, including the broadcasting, cable, entertainment, motion picture, telecom, wireless, satellite, publishing, and new-media industries as well as media technologies. The SNL Kagan suite of products integrates breaking news, comprehensive data and expert analysis into an electronic database available online and updated around the clock. For more information, visit http://www.snlkagan.com.
Visit the SNL Press Room to learn more about resources available to members of the media.