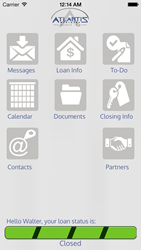 "Atlantis Mortgage prides itself on offering our borrowers the best experience possible." - Jerry Stybel Atlantis Mortgage
Farmington Hills, MI (PRWEB) April 09, 2014
Atlantis Mortgage announced the release of their state of the art proprietary smart phone app developed and designed to enhance the lending experience. App features are highlighted by real time updates, secure data share and communication portal. The Mortgage Connect mobile app connects the borrower, Realtor, loan officer and title companies in a secure and highly interactive lending ecosystem. Smartphone users now have useful and important features at the fingertips of the. This application allows customers and Realtor partners the ability to point, capture and securely share time sensitive documents required for underwriting, approval or closing. This tool essentially transforms the loan process, making it easy, convenient and simple for customers to get real-time loan status updates, communicate with all relevant entities, share data and remain engaged. Mortgage Connect offers true transparency for all parties involved in the loan process.
The launch of Mortgage Connect demonstrates Atlantis Mortgage's never ending commitment to better serve their market. Atlantis spokesperson, Jeremy Stybel, stated: "Atlantis Mortgage prides itself on offering our borrowers the best experience possible and we look to assist our Realtor partners with tools designed to help them differentiate themselves in their respective markets. We understand we are now in the midst of a paradigm shift to mobile and we need to adopt new enterprise practices to meet consumer demands. Our company's goal is to always combine integrity and customer service with the latest advances in technology to offer an exceptional experience."
Easy Mortgage Apps LLC (EMALLC) spokesperson, Michael Kelleher, was excited about the opportunity to work with Atlantis Mortgage. He applauds Atlantis for the role they are playing in the industry, "Jeremy Stybel is a true industry visionary and his forward thinking mindset will benefit not only his borrowers but his market in general. We are excited to partner with such a forward thinking organization. We truly enjoy helping early adopters like Atlantis Mortgage bring their mobile vision to fruition."
About Atlantic Mortgage
Since 2002, Atlantis Mortgage has been providing unparalleled customer service, excellent rates and little- or no-closing cost mortgages in Michigan, Indiana, California, Texas and Virginia. Our unique ability to work directly with lenders—not retail loan officers—allows us to price all our loans at the lowest rates with the lowest possible closing costs.
About EasyMortgageApps.com
Easy Mortgage Apps LLC (EMALLC), located in Massachusetts, builds today's most innovative mobile apps for lending companies. As a leader in mobile technology for mortgage apps, they utilize many of today's most efficient features to give customers all the essential details they need to manage their loan app. For more information, please visit: http://www.easymortgageapps.com/.
Mortgage Connect is free and available for download at either the iTunes App Store for iPhone or Google Play for Droid smart phones. Industry sources reveal that Easy Mortgage Apps LLC (EMALLC) worked closely with Atlantis Mortgage in developing the new mobile app. This means that the tool is well integrated with the Atlantis Mortgage loan origination system to offer the customer the best experience. EMALLC is a Massachusetts-based company that builds innovative apps that make the chore of mortgage loan processing much simpler. Their successful mobile strategy has moved them to the forefront of mobile technology for mortgage apps.
Company: Atlantis Mortgage
Media Contact: Jeremy Stybel
Phone: 248-985-6000
Email: Jeremy(at)AtlantisMortgage(dot)com