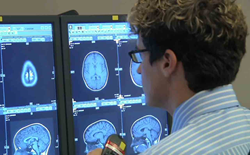 Our colleagues at Diversified Radiology of Colorado, P.C. truly are visionary in their support of the future of Radiology and the medical imaging sciences... Today's research is tomorrow's practice.- James P. Borgstede, M.D
Denver, CO (PRWEB) April 09, 2014
With a donation of $10,000, Diversified Radiology of Colorado, P.C. is leading the way in improving patient care, diagnosis and treatment with their support of research and education in radiology. This contribution to the Radiological Society of North America's (RSNA) Research & Education Foundation will be used to fund discoveries in CT dose reduction, breast cancer diagnosis and treatment, pediatric brain tumors and new methods of cancer detection.
The R&E Foundation's Visionaries In Practice (VIP) Giving Program is an avenue for medical imaging practices to give back to their patients and their community. Research being funded at major medical institutions enables new treatments in their community—looking out for future patients by supporting valuable research and development. VIP professionals recognize the critical need to deliver funding to the brightest ideas in radiology.
"Our colleagues at Diversified Radiology of Colorado, P.C. truly are visionary in their support of the future of Radiology and the medical imaging sciences," said James P. Borgstede, M.D., chair of the R&E Foundation's Board of Trustees. "They are helping to ensure that our patients benefit from the latest discoveries and techniques in the years to come. Today's research is tomorrow's practice."
Since its inception in 1984, the RSNA Research and Education Foundation has awarded $40 million in grant support to nearly 1,000 investigators. A survey of former grant recipients indicates that each dollar granted by the Research and Education Foundation typically results in over 40 dollars' worth of grant awards from other research organizations, such as the National Institutes of Health (NIH).
About Diversified Radiology:
Diversified Radiology of Colorado, P.C. is a private group of 65 subspecialty radiologists practicing in all areas of diagnostic and interventional radiology. Throughout its 85+ year history, Diversified Radiology has kept a strict focus on quality patient care. This is achieved through stringent quality initiatives that evolve as technology advances. Diversified Radiology further demonstrates its focus on improvement of patient care through its long history of support and participation in research trials. This requires a time commitment and dedication to science that is beyond the scope of most private practices. Such projects include conducting an IRB approved research trial comparing techniques for MRI defecography and participating in ACRIN's RESCUE research trial. Additionally, Diversified Radiology of Colorado Research Institute (DRCRI) was created to expand our contributions to quality patient care. DRCRI is a 501(c)(3) nonprofit organization that is dedicated to reducing costs and false positives through innovative breast cancer research. For more information about Diversified Radiology, please visit: http://www.divrad.com.