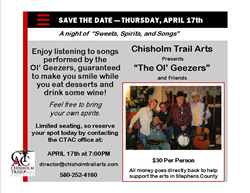 Duncan, OK (PRWEB) April 14, 2014
Duncan's historic Prairie House will be filled with sweets, spirits and songs when the Chisholm Trail Arts Council presents "The Old Geezers".
CTAC holds a pARTy each quarter, with all proceeds benefitting their programs, which include ArtSmart, Arts Explosion and the LIVE concert season. This will be the second house pARTy held in the historic Prairie House, which ensures an up close and engaging performance experience. The Old Geezers are known for their bluegrass and dittles, making an evening full of fun and lots of laughs.
To be a part of this memorable evening, contact The Chisholm Trail Arts Council at 580-252-4160 or director(at)chisholmtrailarts(dot)com. Seating is limited so reserve your seats quickly and help support the arts in Stephens County.