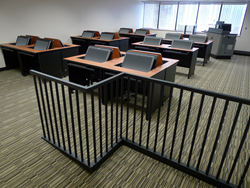 This answers the need for adaptive teaching and learning styles.
Baltimore, MD (PRWEB) April 08, 2014
SMARTdesks, a leader in ergonomic collaborative learning furniture equipped with interactive technology, successfully completed a classroom redesign project at Union County College (UCC) in Cranford, New Jersey this January 2014. The company updated four classroom spaces by enhancing outdated, "traditional" classrooms with new, comprehensive power/data management systems and space-optimizing collaboration furniture.
Early-phase planning meetings with UCC quickly indicated that the four classrooms were archaic and worn-out. Not only were the classrooms lacking in power/data management and distribution, but the project posed one particular challenge; the spatial footprints were particularly small.
To accommodate these spatial constraints, the SMARTdesks Design team generated potential layouts for the new rooms shared these plans with the client via the Design Cloud, the company's collaborative platform for file sharing.
Designers and engineers at SMARTdesks generated desktops that were smaller than industry standard but incorporated the SMARTdesks FlipIT mechanism. The desk size allows students to work with HP 8300 monitors while still providing space to use textbooks and hard-copy learning materials. By shrinking the footprint of the workstations, SMARTdesks ultimately gave each room increased floor space, critical to fitting a minimum of 24 students in the classrooms.
SMARTdesks also installed a FFIT floor, a cost-effective, versatile system that installs over existing floors without demolition. This solved wiring problems and distributed reconfigurable access to 15 duplex outlets in the room, providing ample power to the computer workstations.
The raised FFIT floor maximized square footage, adhered to fire code, and is ADA compliant. Leading into each classroom is a ramp with a finished black railing that enables convenient and safe wheelchair access. The ramps seamlessly integrate with the same raised tile carpet flooring that distributes power throughout the rooms.
To accommodate both collaborative learning and more traditional teaching methods, each of the desks were outfitted with locking casters for full flexibility and mobility. The FlipIT desks can be arranged in back-to-back position for learning pods and group work. The professor can also place the desks around the perimeter of the room for a traditional configuration.
"Our project success at UCC transforms four STEM classrooms from a singular study lineal format into a project-based group oriented interaction," said SMARTdesks President and CEO Jeffrey Korber. "The entire environment is a dynamic solution for the college. This project fulfills the purpose of our FFIT system approach to offer institutions the flexibility needed in our collaborative world. It allows them the flexibility to re-position students and teachers when and as they desire."
SMARTdesks' renovations – which enable collaborative learning at UCC – reflect growing trends in the millennial or Generation Y's learning and working preferences. According to a 2014 study from Deloitte University Press titled "The Millenial Survey 2014: Big demands and high expectations," 78% of millennials value innovation and creativity when choosing where they wanted to work.
Millennials are forcing companies to reconsider employee lifestyles work environments to include flexible schedules, airy floor plans, and collaboration-friendly furniture. As SMARTdesks Director of Design Michele McHenry said, "This answers the need for adaptive teaching and learning styles."
About SMARTdesks:
SMARTdesks can generate a classroom floor plan or design a conference or meeting room with no cost or obligation to purchase. SMARTdesks collaborative furniture for classrooms and conference rooms is ready to be equipped with FlipIT mechanisms for computer monitors, iPads, or other tablets.