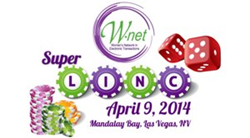 McLean, VA (PRWEB) April 09, 2014
The Women's Network in Electronic Transactions (W.net) is pleased to announce the schedule for the annual SuperLINC event. The 2014 SuperLINC will be held on Wednesday, April 9 from 2:00pm – 5:00pm at the Mandalay Bay Conference Center in Las Vegas, NV. SuperLINC is an unparalleled occasion for professionals in payments to convene for a dynamic half-day program packed with innovative ideas and networking opportunities. The W.net SuperLINC event is held annually in conjunction with the Electronic Transactions Association's (ETA) TRANSACT14 Annual Meeting & Expo.
This year's SuperLINC features Tracy "Jackie O" LaTourrette, one of the world's "First Lady" fighter pilots, will provide attendees with a balance of leadership development tools on leadership, discipline, and process improvement. Attendees will then ride the wave of accelerated change with Aaron Frank from Singularity University as he discusses the impact of disruptive technologies that are poised to alter society in the coming years. The event will close with a reception providing attendees time to connect with newly acquainted industry colleagues.
The 2014 SuperLINC features the following esteemed speakers:

Tracy "Jackie O" LaTourrette, Lieutenant Colonel, United States Air Force, F-16 Fighter Pilot
Aaron Frank, Singularity University
Lisa Shipley, W.net President and EVP and Managing Director, Transaction Network Services
"W.net's primary goal is to give our members the tools and lessons necessary to maximize their potential and be successful both personally and professionally," said Lisa Shipley, 2014 W.net President. "The 2014 SuperLINC supports this agenda by providing key insight and necessary education to professionals in this highly-competitive and rapidly-evolving industry."
For more information on the SuperLINC event and the full schedule, please visit http://www.wnetonline.org/news.
Sponsorship opportunities are available. Please contact Shaughna Giracca at 703-506-2882, sgiracca(at)wnetonline(dot)org or view the sponsorship prospectus for more information.
About Women's Network in Electronic Transactions (W.net):
The Women's Network in Electronic Transactions (W.net) is the premier professional organization for women in payments, providing personal enrichment no matter what stage members are in their career. The organization provides world-class national and regional programming, fosters networking and promotes mentoring to help members achieve greater personal success, influence and professional parity. Founded in 2005, W.net is a 501 (c) (3) non-for-profit organization serving more than 800 women in payments annually. For more information about national and regional events and programming, or to become a member, please visit http://www.wnetonline.org.
###