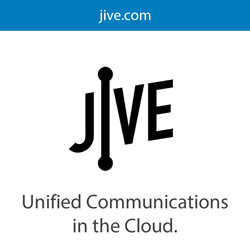 Jive Communications is perfectly suited to deliver state of the art Hosted Unified Communications to State & Local Governments and educational customers in California.
Orem, UT (PRWEB) April 08, 2014
Government organizations in California can now secure VoIP and MPLS Services with ease of procurement via the competitively bid CALNET3 contract awarded to Jive Communications, Inc. for subcategories 1.2 and 1.3.
Organizations stand to gain from the new CALNET3 contract awards, with companies like Jive offering feature alternatives and potential cost savings over CALNET2 incumbents AT&T and Verizon.
"This new competition could save these S&L governments tens of millions of dollars a year," said John Thomas Flynn of TechLeader, and a former State CIO of California.
Jive offers VoIP and MPLS solutions to government organizations looking for enterprise-grade features for a predictable low monthly cost. The hosted services model gives organizations the opportunity to gain the feature benefits of a full VoIP solution without the capital purchases involved in traditional alternatives.
"The stated objective of CALNET3 is to bring competition, technological innovation, flexibility and cost control to public sector organizations," said Jim Horalek, VP of Government Sales at Jive.
"We're excited to be selected as a CALNET3 contractor and support the State in meeting these objectives. Jive Communications is perfectly suited to deliver state of the art telecommunications services to state & local governments and our educational customers in California."
Some of the key benefits of Jive's VoIP and MPLS services include:
Ease of Procurement - Organizations can procure Jive VoIP and MPLS services directly off the CALNET contract.
Ease of Use - Jive's intuitive online portal makes system changes and configurations easy with its signature drag-and-drop visual dial plan editor.
Predictable Low Monthly Expenses - Organizations gain full access to all features in the solution for a low monthly per-device cost including unlimited local and long-distance calling.
Scalability - All changes can be made in real time and users and multiple locations can be easily added or removed.
Feature Development - Jive owns its hosted services platform and continuously develops and deploys new capabilities.
"We're excited about the CALNET3 contract win," said John Pope, CEO at Jive. "We look forward to many strategic relationships in the state of California".
For more details, contact The Jive Public Sector team at 877-333-8880 or GovSales(at)jive(dot)com.
About Jive
Jive Communications provides enterprise-grade Hosted VoIP and Unified Communications to businesses and institutions. Rapidly becoming the standard for business communications worldwide, Jive Cloud Voice offers secure and efficient hosted services designed specifically for public sector organizations. Jive's hosted services run on Jive Cloud, a proprietary, cloud-based platform. The Jive Cloud architecture has been purpose-built to deliver the most reliable, powerful, and economical hosted communication services available to the enterprise market. More at jive.com/government.