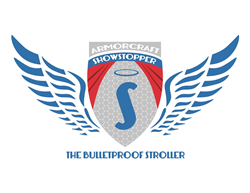 In recent years, there's been quite a proliferation of bulletproof products, for instance, bulletproof backpacks, and armored vests or jackets for children. Ten years ago, I would have never imagined creating armored products for kids.
Clinton, N.J. (PRWEB) April 17, 2014
The new bullet resistant stroller seat, SHOWSTOPPER, is compatible with the popular and fashionable Bugaboo Cameleon 3 stroller frame. Bulletproof Strollers Inc. has married fashion with innovative bulletproofing material to develop the first production armored stroller.
The new baby/toddler stroller seat and canopy is made with RynoHide, an American product developed by ballistics company Amendment 2. The patented carbon nanotube technology (CNT) keeps the armor light and relatively flexible. CNTs are 30 times stronger than steel, yet five times lighter. This minimizes the weight of the added armor and the stroller can be easily maneuvered, picked up, and stored.
Paul Hsiao, Bulletproof Strollers Inc. founder and President, describes his idea for SHOWSTOPPER, "Like most parents, my wife and I do our best to ensure the safety of our children. Since our kids are very young, our stroller goes wherever we do, and we needed a stroller that is light enough to travel with us. At the same time, we wanted something that provided our kids with that extra measure of protection. There has been a lot of interest from other parents (and parents-to-be), so we wanted to make this option available."
As well, Mr. Hsiao understands that parents are not only looking for safety, but also an attractive and discreet product. "Safety and fashion need not be mutually exclusive."
Jerry Edwards, fellow Bowdoin College alumnus, a father, and the company's Vice President of International Sales explains "In recent years, there's been proliferation of bulletproof products for children, including bulletproof vests and backpacks. Ten years ago, I would never have imagined creating armored products for kids. Unfortunately, many parents now have to think about how to protect their kids in unthinkable situations. With that reality, our company focuses on providing parents with the strongest, most reliable, and lightest options for protecting their kids on the go." The armor in SHOWSTOPPER meets the National Institute of Justice Type II armor, meaning it has been tested to withstand 9mm bullets and .357 Magnum Jacketed Soft Point bullets at common velocities.
The company is currently developing a prototype for a bullet resistant double stroller. To find out more about SHOWSTOPPER, the NIJ Level II Armored Bugaboo Cameleon 3 stroller, visit http://www.thebulletproofstroller.com.
About Bulletproof Strollers Inc.:
SHOWSTOPPER is the first product developed by Bulletproof Strollers Inc., an American company headquartered in Clinton, New Jersey. Passionate about baby and child safety, the company continues to develop products that are highly functional as well as fashionable. Bulletproof Strollers Inc. is a sister company to CORSA Leather Inc. (http://www.corsaleather.com), a company that designs and manufactures high-end leather and Alcantara® goods, including aftermarket fabric sets for high-end strollers, with a nod to automobile exotica. As well, Bulletproof Strollers Inc. is not in any way affiliated with Bugaboo Strollers.