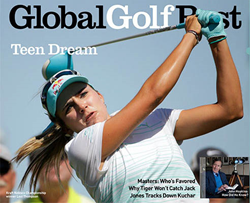 Kraft Nabisco Champion overpowers Mission Hills by hitting driver on every hole she could.
Dallas, Texas (PRWEB) April 08, 2014
Kraft Nabisco Champion overpowers Mission Hills by hitting driver on every hole she could. The day ended by jumping into Poppie's Pond on Sunday with her family, caddie, and sports agent. "I've worked my whole life to win a major and this was my main goal coming into this year, so I'm excited and so grateful," she told the Golf Channel after carding 68 to finish at 14-under-par 274.
"I played this course very aggressively," the 19-year-old Champion said. "I didn't want to change the way I played the last few days because my driver won't get me in any trouble on a lot of the holes. So, laying back wouldn't really make sense."
The Champion wears different color negative ion IonLoop's each week to match her Puma apparel. The one exception is the Pacific Blue sport bracelet she wears on Sunday; it's all about blue on Sunday. Driver, glove, golf bag, Puma gear, and IonLoop bracelets…all blue all day.
"I was glued to the TV on Sunday; watched every shot" said Melissa Gotfredson, IonLoop's CEO. "We are so proud to be friends of this young lady and her family, and know how much winning her first Major means to her" said Gotfredson.
About IonLoop
IonLoop's magnet and negative ion bracelets, wristbands, necklaces and watches are a great first step in counteracting the harmful effects of positive ions. The negative ion properties are manufactured into silicone bands and will not lose their effectiveness over time. Most of the bracelets and watches also contain two small, powerful magnets that are carefully assembled to alternate the polarity of each magnet; we believe this manufacturing process may be adding another dimension to the stimulus that the magnets may have on the chemistry of the human body. For more information on IonLoop technology and to view all IonLoop products, please visit http://www.ionloop.com.