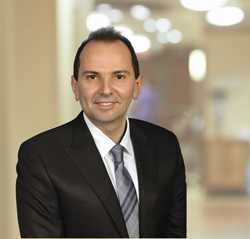 Pittsburgh, PA (PRWEB) April 08, 2014
George Eid, MD, a nationally recognized surgeon with leading expertise in minimally invasive surgical techniques and bariatric - or weight loss – surgery has been recruited by Allegheny Health Network to serve as Division Director of Minimally Invasive Surgery and Division Chief of Bariatric Surgery.
Dr. Eid joins Allegheny Health Network from the University of Pittsburgh Medical Center and the VA Pittsburgh Healthcare System, where he has held multiple leadership roles and has helped advance pioneering technologies and procedures for minimally invasive and robotic surgery. At the VA, Dr. Eid served as Clinical Director, Bariatric and Minimally Invasive Surgery and Section Chief of General Surgery. At UPMC he was an Assistant Professor of Surgery and Co-Director of the University's Endoscopic Surgery Program.
Through his position on the Advisory Board of the U.S. Veterans Administration in Washington, DC, Dr. Eid has also played a pivotal role in the development of public policy within the national VA system. And as Chair of the Public Education Committee and Co-Chair of the Emerging Technology Committee for the American Society of Metabolic and Bariatric Surgery, he has helped establish national standards for one of the country's fastest growing surgical specialties.
"With the epidemic of obesity in our country and the significant demand it is placing on our resources across almost every discipline, and with the ongoing and rapid progression of our surgical capabilities towards more minimally invasive solutions, we are extremely fortunate to have a surgeon of Dr. Eid's caliber leading these important programs at AHN," said Howard Edington, MD, Chair of the Department of Surgery at AHN.
"He is an exceptional talent whose commitment to patient care excellence and advancing the frontier of medicine will further strengthen our clinical, academic and scientific mission," Dr. Edington said.
Dr. Eid is the author of more than 50 publications and book chapters on bariatric and minimally invasive surgery and he has served as principal investigator or co-investigator for dozens of important clinical studies in his field, including National Institutes of Health-sponsored research.
Certified by the American Board of Surgery, Dr. Eid has noted expertise and experience with all forms of bariatric surgery, including a newer technique called vertical sleeve gastrectomy, as well as traditional procedures such as Roux-en-Y gastric bypass surgery and laparascopic adjustable gastric banding.
In addition to bariatric surgery, he also specializes in laparoscopic hernia repair, the surgical treatment of gastrointestinal disorders, including laparoscopic colon and gastric resection, adrenalectomy, pancreatectomy, splenectomy and laparoscopic anti-reflux surgery.
Dr. Eid received his medical training at the American University of Beirut and completed a general surgery internship and residency at the University of Iowa. He completed a minimally invasive surgical fellowship at the University of Pittsburgh.
Dr. Eid is currently on staff at Canonsburg Hospital and Saint Vincent Hospital in Erie, PA, but will eventually also be based at Allegheny Health Network's academic flagship institutions in Pittsburgh, Allegheny General Hospital and West Penn Hospital.
###