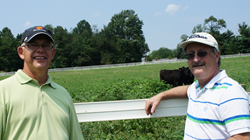 Sustainable farms are the key to preserving the land
(PRWEB) April 22, 2014
Earth Day is an annual event celebrated on April 22, on which events are held worldwide to demonstrate support for environmental protection. Eating meats produced by sustainable agriculture helps celebrate and support this event.
Sustainable farming can be described as the practice of farming ecologically. Sustainability means farming a single area so that it produces food indefinitely. Sustainable agriculture involves using nonrenewable resources effectively, growing nutritious foods and enhancing the quality of life of the farmers (source:Department of Agriculture). Pastured raised foods have higher levels of vitamins and a healthier balance of omega-3 and omega-6 fats than conventional meat and dairy products (source: http://www.sustainabletable.org).
Eating sustainably can be difficult for a busy family. The planning involved in creating healthy and sustainable meals can be overwhelming and tedious when shopping at the average grocery store. Harvey's Market makes it easy for DC residents to shop for healthy, local pastured meat. The environmentally-friendly, local farms that partner with Harvey's don't make use of antibiotics, growth hormones or animal by-products, resulting in only the highest quality cuts.
"Shopping at Harvey's Market is a convenient way to ensure that your family is eating healthful meals from local farms," said George Lesznar and Marty Kaufman. "The great thing about sourcing local meat and poultry is that we get the chance to head out and visit the farms. Talking to the farmers and reviewing their practices to assure that the animals are truly natural, healthy and have access to all they need to be happy."
Each week Harvey's offers several specials, making it easier to plan a healthy meal. The specials being offered during the week of Earth Day are: Fresh cut Salad bar Beef Steaks from Polyface Farms.
To find more weekly specials, visit http://www.harveysmarketdc.com/specials/.
About Harvey's Market
Harvey's Market, DC's healthy butcher shop, has been serving Washington DC since 1931. Only providing the highest quality cuts of meat, the market is a sustainable and healthy way to shop. Harvey's partners with nine local farms to bring high quality, sustainable cuts to Washington DC residents. For more information, visit http://www.harveysmarketdc.com or contact us at 202.544.0400 / Harveysmarket(at)verizon(dot)net.