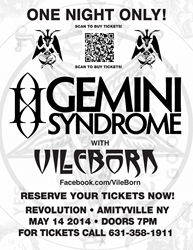 Amityville, New York (PRWEB) April 08, 2014
VileBorn, the notorious Long Island metal-heads, have just announced that they will be playing a show with one of their favorite contemporaries, Gemini Syndrome. The concert will be held at Revolution in Amityville (formerly Ollies Point) on the night of Wednesday, May 14. Tickets can be purchased online or reserved by phone.
Gemini Syndrome is a hard rock band from Los Angeles California. They are currently signed to Warner Brothers Records. Their current hit, "Stardust" is one of the top songs on hard rock radio this season.
VileBorn has opened for numerous large acts in the last year, including Straight Line Stitch (E1 Music – Universal Music Group), 40 Below Summer (London-Sire Records – Warner Music Group), and My Ticket Home (Rise Records). VileBorn has been active since early 2012 and through relentless performing, active social media and regional notoriety, the band has built quite a reputation throughout the heavy metal scene. The band released their debut 4 song EP, "Vileated" in January of 2014.
Buy the "Vileated EP" on iTunes here: https://itunes.apple.com/us/album/vileated-ep/id792815778?uo=4.
Buy tickets to the show here: http://vileborn.bandcamp.com/merch/ticket-for-vileborn-w-gemini-syndrome-may-14th-amityville-ny.
For more information contact ChoppaCorp Management at vileborn5(at)gmail(dot)com.