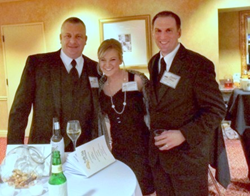 We value our relationships with the railroads. We always are honored to be their invited guests at the prestigious Traffic Club Dinner.
Pittsburgh, PA (PRWEB) April 09, 2014
Several members of the staff of MHF Services were guests at The Traffic Club of Pittsburgh's 112th annual dinner held March 20, 2014 at the Wyndham Grand Hotel in Pittsburgh, PA.
The Traffic Club of Pittsburgh, founded in 1902, is an organization of professionals who share a common interest in transportation and logistics. Members come from 33 states, Canada, Mexico and Europe and include representatives from Class I and short-line railroads, marine transporters, and trucking companies as well as representatives of the industries and businesses they serve.
MHF, a leading provider of packaging, transportation, logistics and technical services, has had longstanding attendance at the annual Traffic Club dinners. In 1994, MHF pioneered the use of rail in the radioactive and hazardous waste markets, creating a unique market niche within the railroad service industry. MHF currently maintains more than $40 million in owned and leased railroad assets, including a private fleet of approximately 700 railcars.
MHF is among the railroads' largest clients for the transport of environmentally sensitive materials. MHF's logistical experts maintain in-depth knowledge of and close working relationships with all Class I railroads and many short-line railroads in the U.S., Canada and Mexico.
"We value our relationships with the railroads," said MHF President and Chief Executive Officer Robert Shawver, "We always are honored to be their invited guests at the prestigious Traffic Club Dinner."
The MHF staff members attending this year's dinner were Patrick Alcorn, Business Development Manager; Kirk Collingwood, Account Manager; Jared Stango, Chief Financial Officer; and Robert Woodburn, Director of Operations. They were the guests of CSX Transportation and GATX Corporation.
About MHF Services
MHF Services (http://www.mhfservices.com) is an integrated packaging, transportation and logistics provider offering seamless solutions for generators and shippers of radioactive, hazardous, and non-hazardous waste, materials, and byproducts. MHF provides transportation and logistics solutions to U.S. Department of Energy contractors, and companies in the nuclear utilities, environmental services, energy, mining, metals, chemical, and petrochemical industries.
MEDIA CONTACT
For more information:
MHF Corporate Communications
724.772.9800, Ext. 5562