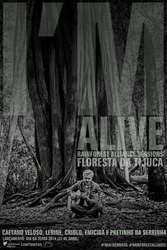 We are thrilled to be working with Andres Levin and Caetano Veloso; the film is beautiful and truly expresses our mission. - Ana Paula Tavares, senior vice president of the Rainforest Alliance
(PRWEB) April 09, 2014
The Rainforest Alliance announces a collaboration with GRAMMY® Award-winning artists Caetano Veloso and Lenine as well as renowned Brazilian artists Criolo, Emicida, Pretinho da Serrinha and Sistah Mo Respect for I'm Alive –Rainforest Alliance Sessions – Floresta da Tijuca. Featuring voice narrative by Brazilian supermodel and environmental ambassador Gisele Bündchen--who was recently appointed to the Rainforest Alliance Board of Directors--the interactive project is designed to raise global awareness about the mission of the Rainforest Alliance and its work in Brazil through the power of film and music.
Recorded inside the Tijuca Forest, in the heart of Rio de Janeiro, I'm Alive –Rainforest Alliance Sessions – Floresta da Tijuca is a unique experience in music, environmental awareness and cinema produced by Andres Levin of Content-OS, a creative content and social impact company and film producer Paula Lavigne of Uns Produções e Filmes. The song I'm Alive uses excerpts from Caetano Veloso's classic Nine Out of Ten from which all the artists composed original material inspired by our relationship with nature and global awareness about the rainforest.
The music film is part of an initiative to raise awareness on the importance of mindful consumption around the world. A social media awareness campaign will support the project and will feature original music recorded in the forest, a behind-the-scenes documentary and photography produced in the Tijuca Forest. The Rainforest Alliance will promote the film through global channels and through its nonprofit partners including IMAFLORA (Forestry and Agriculture Management and Certification Institute) in Brazil. I'm Alive –Rainforest Alliance Sessions – Floresta da Tijuca will debut on Earth Day, April 22 on YouTube and http://www.rainforest-alliance.org
The Rainforest Alliance has worked in Brazil for more than 15 years in collaboration with local partner IMAFLORA. A leader in sustainability, the global organization works to transform industries such as timber extraction, agriculture, cattle ranching and tourism to create long-term solutions for some of the world's most serious environmental challenges. In 2003, the Daterra farm in southeastern Brazil became the country's first coffee farm to become Rainforest Alliance CertifiedTM to the comprehensive standards of the Sustainable Agriculture Network (SAN) through IMAFLORA. In 2012, Fazendas São Marcelo, a group of four cattle ranches, became the first in the world to earn certification for sustainable cattle production. Located in western Brazil, the ranches cover a total area of 79,000 acres (32,000 hectares) including a 32,000-acre (13,000-hectare) reserve in the Amazon. This protected area helps buffer natural forest and provide shelter and habit for wildlife.
"The Rainforest Alliance has been working in collaboration with IMAFLORA to address environmental issues in Brazil since we began and we are committed to furthering our work in one of the most important emerging markets in the world," said Ana Paula Tavares, senior vice president of the Rainforest Alliance. "We are thrilled to be working with Andres Levin and Caetano Veloso; the film is beautiful and truly expresses our mission. Through this project we hope to raise awareness of the work we do here and throughout the world and to celebrate the extraordinary music of Brazil."
The roots of the collaboration are based on the Rainforest Alliance's mission to protect the planet and improve rural livelihoods through sustainable land-use initiatives. Concurrently, Andres Levin's Content-OS project has sought to raise awareness for critical global issues by bridging the gap between entertainment and global nonprofits.
About the Rainforest Alliance
The Rainforest Alliance is a global nonprofit that works with people whose livelihoods depend on the land, helping them transform the way they grow food, harvest wood and host travelers. From large multinational corporations to small, community-based cooperatives, businesses and consumers worldwide are involved in the Rainforest Alliance's efforts to bring responsibly produced goods and services to a global marketplace where the demand for sustainability is growing steadily. For more information, visit http://www.rainforest-alliance.org.
About IMAFLORA
IMAFLORA – Institute for Forest and Agriculture Management and Certification – is a Brazilian nonprofit organization that works to promote conservation and sustainable use of natural resources and to generate social benefits in the forestry and agricultural sectors. With a national presence and participation on international forums, it was founded in 1995 and is based in Piracicaba, countryside of Sao Paulo. Learn more about us on http://www.imaflora.org.