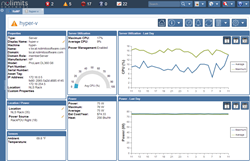 I think our customers are going to love the new functionality and dramatic new look and feel.
St. Louis, MO (PRWEB) April 09, 2014
No Limits Software announces the upcoming release of version 3.0 of their RaMP DCIM solution, with a new user interface, new tablet and mobile versions, new reporting features, support for patch panels, improved drag and drop support for setting up rack power and network connections, a new cost model for tracking all costs for an asset, and enhanced support for managing warranties, service contracts, and leases. "Version 3.0 was a major endeavor by our dedicated team and I couldn't be more pleased with the results," said Dave Cole, the president of No Limits Software. He adds that "I think our customers are going to love the new functionality and dramatic new look and feel."
The RaMP DCIM solution provides data center management from the virtual machine to the IT infrastructure (servers, blades, storage, network) to the Facilities infrastructure (power, cooling, environmental monitoring). RaMP's auto-discovery allows you to be up and running in hours rather than months and the intuitive user interface reduces training time. RaMP also provides software and operating system license management, state of the art workflow management to manage tasks, and complete integration with intelligent rack solutions from multiple manufacturers.
RaMP 3.0 also introduces new pricing models, allowing customers to choose between traditional software license with annual maintenance, software as a service (SaaS) model with the software running on premise, or SaaS model running in the cloud. This new flexibility will allow customers to choose the model which best suits their needs.
RaMP 3.0 will be on display at the No Limits Software booth (Booth 117) at the upcoming AFCOM Data Center World conference in Las Vegas on April 28 – May 2 and will be available for general release in May.
Version 3.0 of the RaMP DCIM solution includes the following new features:

A new streamlined user interface throughout the application to make RaMP even easier to use
Completely rewritten mobile interfaces, with new smart phone and tablet versions to put detailed data center information in your hands
New reporting tools allow users to create and save their own customized reports in PDF, Word, or Excel formats
New drag and drop support for patch panels
Improved rack drag and drop support to allow users to make power and network connections for an entire rack in minutes
New asset cost model to allow you to track asset costs, including purchase price, lease, service contracts, maintenance, software and operating system, and power and cooling costs. RaMP allows you to roll up these costs by physical location or logical groupings.
Enhanced support for managing warranties, service contracts, and leases.
Added the ability for users to create their own Modbus and SNMP devices
The RaMP DCIM solution provides the following benefits:
Auto-discovery of detailed device information
Power and environmental monitoring down to the device level
Server monitoring to identify servers which should be retired, virtualized or consolidated
Software and operating system license management
Lease and service contract maintenance
Asset cost tracking
Automated change control to reduce MTTR and increase availability
Web services API for integration with other systems
PUE, DCiE and CADE energy management calculations
Accurate capacity planning data to reduce stranded power and shutdown risks
Device type roll-up views for an easy way to quickly compare device performance
Visual workflow and task management
About No Limits Software
No Limits Software is a leading provider of data center management solutions, including asset and change management, capacity planning and real-time monitoring. No Limits Software helps you to better understand and more effectively operate your data center through (1) data center training, either on site or on line, (2) RaMP DCIM software, and (3) intelligent cabinets to automate data center management at the cabinet level.