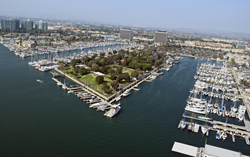 Over the last 10 years, visitors to Marina del Rey have seen amazing changes with new dining, recreational activities and hotel amenities and have rediscovered this unique waterside destination.
Marina del Rey, California (PRWEB) April 08, 2014
Continuing its evolution as one of the most picturesque and desirable destinations along the Los Angeles coast, Marina del Rey (http://www.visitmarinadelrey.com) is experiencing a modernizing renaissance that's already reporting substantial growth in its tourism. Such impact is being fueled by renovations to Marina del Rey hotels and restaurants, the continued expansion of technology giants into "Silicon Beach" and the growing anticipation of upcoming waterfront commercial and residential redevelopment projects such as Pier 44, and the recent completion of Shores, a high-end residential community with tech-savvy features and unparalleled waterfront views. Situated in its prime coastal location only a four-mile drive from LAX, Marina del Rey continues to solidify its position as one of the top economic and tourism centers of Southern California as a convenient hub for both business and leisure travelers.
Growth in Tourism Pushes Marina Economy
Marina del Rey has experienced revitalization in the last several years, and the community is enjoying a surge in popularity and development recording record growth while surpassing other similar areas of Los Angeles in hotel occupancy. A recent tourism study on overnight guests performed by PFK Consulting USA on behalf of the Marina del Rey Convention & Visitors Bureau found the economic impact of tourism increasing from $231,068,000 in 2011 to $249,130,000 in 2012, an uptick of 7.8 percent not accounting for the increase of daily visitors, hotels under renovation and the recent growth of urban development. Additionally, in 2013 the hotel occupancy averaged 80.3%. Tourism and revenue has significantly increased and is expected to soar as the destination marks its 50th birthday in 2015, a commemorative milestone and rebirth of Marina del Rey with a series of celebrations and special promotions scheduled throughout the year.
"Over the last 10 years, visitors to Marina del Rey have seen amazing changes with new dining, recreational activities and hotel amenities and have rediscovered this unique waterside destination," says Janet Zaldua, the Executive Director of the Marina del Rey Convention & Visitors Bureau. "With all of the changes to come, Marina del Rey will continue to be one of the most dynamic destinations of Southern California."
With occupancy rates and economic impact steadily increasing, tourism continues to power Marina del Rey's growth. By 2015, its six hotels will have completed significant if not complete renovations, including a $20 million renovation of the historic Marina del Rey Hotel, expected to be complete Summer 2014. The Marriott Marina del Rey completed a $6 million room renovation of all its guest rooms, suites, Concierge Lounge, guest hall corridors and elevator landings. The hotel has also announced highly anticipated plans to renovate its lobby and restaurant with stylish, upscale urban features by 2015. In addition, The Ritz-Carlton, Marina del Rey opened its new signature restaurant, Cast & Plow, this Spring and will renovate its main lobby area and sleeping rooms over the course of 2014.
New Development Re-Defines the Marina
The Los Angeles County Visioning Plan recently announced plans to re-define the Marina as a dynamic place to visit and live by developing districts devoted to residential, marina and water activities, boater services and visitor services. These plans will provide for more public gathering spaces and other improvements as well as make the most of the Marina's renowned water and other recreational opportunities. The proposed enhancements will appeal to both visitors and boaters alike with improvements to Oxford Basin incorporating bike and walking paths, improvement in boater facilities, upgrades for the popular coastal biking path, the creation of a beautiful promenade, and the addition of specialty retailers, including Trader Joe's, West Marine and Tin Roof Bistro. Visitors will also enjoy improved public access to the Marina's famous waterfront.
Venerable Marina institutions are also investing in improvements, including the Marina City Club and Hornblower Cruises & Events, which have recently upgraded their facilities, while mainstay waterfront restaurant Shanghai Red's rebranded as Whiskey Red's. Adjacent Marina del Rey developments have also raised the level of neighborhood hospitality with destinations such as the Marina Marketplace, featuring fine dining such as Paichẽ, as well as nationally recognizable brands like Tender Greens, Ruth Chris' Steak House and the Yard House.
Silicon Beach Adds to Marina's New Economic Punch
Los Angeles' famed stretch of technology-rich start ups has expanded through Marina del Rey to neighboring Playa Vista with the recent opening of offices by Microsoft, Facebook, YouTube, Vimeo, and Belkin. The Marina's growing status as a technological center will be on display in October, when The Ritz-Carlton, Marina del Rey hosts Digital Hollywood, the trade show attended by the best and brightest in film, television, music, home video, cable, telecommunications and computer industries. Digital Hollywood has been held at the Ritz-Carlton, Marina del Rey since 2011, demonstrating the Marina's budding emergence in the tech field.
Marina del Rey is also well located relative to a diverse and growing collection of prominent entertainment, technology, media-related, medical, and professional service firms headquartered in the surrounding communities of Culver City, Playa Vista, Santa Monica, and Venice. The community's diverse business environment has been able to maintain revenues, with improved regional tourism and retail sales to support further growth. With more than 1,100 residential units under development, the housing market outlook for Marina del Rey remains positive.
About Marina del Rey CVB
Marina del Rey Convention & Visitors Bureau is the official destination marketing organization that promotes leisure and business travel for Los Angeles' premier waterfront destination. Situated along the Los Angeles coastline and only 4 miles from LAX, Marina del Rey is the largest small craft manmade harbor in North America and is the gateway to Southern California with on-the-water recreation, waterfront dining and harbor side hotels with sparkling marina views, all walking distance from world-famous Venice Beach.  For more information, log onto http://www.visitmarinadelrey.com or contact 310-306-9900. 
Press Contact: Chandra Knee, Dandelion PR; 415-310-4135; chandra(at)dandelionpr(dot)com.
Marina del Rey Spokesperson Interviews, Images and Video Content are Available Upon Request.