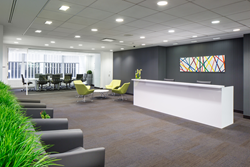 New York NY (PRWEB) April 08, 2014
Virgo Business Centers' latest shared office, a 40,000 square office space at 1345 venue of the Americas, is open for business. This luxury furnished office space includes 115 offices, 2 conference rooms, a fully stocked pantry, washrooms, and everything a business needs to hit the ground running. 1345 Avenue of the America's is Virgo's sixth office. It is located near Fifth Avenue, but the Hilton Hotel and a short walk from Central Park.
The new location is a full service office, with a staffed reception area, lounge, copy/fax center, and more. The luxury furnished office space takes up the entire third floor of its prestigious location. Virgo clients will find the professional luxury they expect from Virgo spaces. The surrounding area includes easy access to public transport, places to take visiting clients for entertainment such as Ziegfeld Theater, and high quality restaurants for lunch meetings or catering conferences, and many other conveniences.
Space in Virgo's shared office can be rented monthly, and some spaces can be rented daily or hourly. Virgo BC's Midtown West office is perfect for hedge funds and other financial services firms. Customizable office spaces have room for 1-10 people to work, and conference rooms, available by the hour, can be reserved for meetings with potential investors or stock holders. Other small firms that need a prestigious location and full service office at a reasonable price will also do well in this location.
Virgo's expansion is a response to the increasing demand for shared office space. Like all shared office space providers, Virgo provides all the amenities expeced of a large corporate offices to small and medium businesses that might not be able to afford the expense of such an offic eon their own. Virgos specializes in luxury furnished office spaces in prestigious New York locations, offering rents far less than the cost of renting and owning a small office.
Virgo moved into 1345 Avenue of the Americas in January after renting the space from AllianceBernstein.
Speaking of the new space Virgo CEO Sarah Klein said, "Sixth Avenue is a very corporate environment, and we've been getting a lot of calls from people asking about something there, and 1345 is a beautiful building."
Virgo's other five other Manhattan locations include 350 Fifth Avenue, 304 Park Avenue South, 380 Lexington Avenue, and 225 West 34th Street. With 1345 Avenue of the America's Virgo adds a Westside location to their portfolio and expands their availability to clients throughout the city.
Virgo Business Centers has been providing high-quality serviced office space in the New York Metropolitan area since 1998.As one of New York City's premier providers of office space, Virgo prides itself on professionally furnished office solutions at a low-cost point, as well as a wide range of other business services.