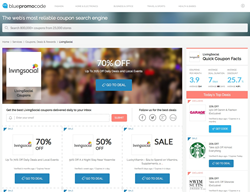 Visitors to BluePromoCode want one thing and one thing only - to find a working coupon code, right away.
(PRWEB) April 07, 2014
BluePromoCode.com, a leading coupon search engine, announced today the launch of its redesigned website and expanded coupon platform. The company has increased its database to over 800,000 coupons, and has launched improved search and targeting features which enable visitors to find coupons more quickly.
The new website has been redesigned with a clean and modern look, and information density has been improved so more coupons are visible on the screen. Additionally, the website utilizes advanced data storage and search technologies, returning more relevant results to the user more quickly. With the new platform, BluePromoCode also plans to add advanced personalization features which will provide a customized experience for users, providing them with coupons they are most likely to use.
The company's mission is to offer the world's fastest and most reliable coupon search service, enabling shoppers to find working discount codes at more than 25,000 stores and retailers.
"Visitors to BluePromoCode want one thing and one thing only - to find a working coupon code for a particular store, right away," said Michael Quoc, CEO of BluePromoCode's parent company, ZipfWorks. "Everything we do is geared around enabling this. Our website simply makes it faster and easier to find the exact working discount code you need."
How does BluePromoCode achieve greater speed and accuracy for coupon searchers? The company's coupon strategy falls into three broad categories:
Greater coupon coverage - With a database of more than 800,000 coupons listed at over 25,000 stores, BluePromoCode offers one of the largest and most comprehensive coupon databases in the world. Shoppers can be confident that whatever they type into the search box will give them the results they want.
Strict coupon verification - BluePromoCode employs proprietary technologies and processes to ensure that only working coupon codes and sales are displayed to our users. The company hand-tests and verifies thousands of coupons every week, enforcing strict editorial guidelines and ensuring that every coupon displayed works as promised.
Fewer, more accurate results displayed - Many coupon sites will display non-functioning or expired coupons, leaving it up to their visitors to test several codes before finding a working one. In contrast, BluePromoCode does not make you sift through pages of search results before finding an active coupon - it only displays working coupons to its visitors.
The new BluePromoCode.com is available at http://bluepromocode.com.
The website also offers a suite of tools to enable deal and coupon bloggers provide fully customized daily updated coupon feeds to their readers. Webmasters can locate these tools at http://bluepromocode.com/widgets/.
BluePromoCode, based in Santa Monica, California, is a leading coupon search engine. The website is owned and operated by ZipfWorks, which partners with over 8,000 retailers and websites, connecting their products and offers to millions of consumers each month through its network of consumer shopping applications.