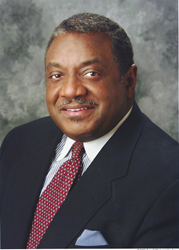 "With his acumen for leadership, we are confident that he will greatly advance the McGaw YMCA's mission of strengthening the Evanston community through youth development, healthy living and social responsibility." - Dan Israelite, McGaw YMCA Board Chair
Evanston, IL (PRWEB) April 08, 2014
The McGaw YMCA Board of Directors is excited to announce that Mark A. Dennis, Jr. has been selected as the organization's new CEO and President.
"Mark is a seasoned, skilled and compassionate, visionary leader, proven throughout the Evanston community and beyond," said Dan Israelite, McGaw YMCA Board Chair. "With his acumen for leadership, we are confident that he will greatly advance the McGaw YMCA's mission of strengthening the foundation of the Evanston community through youth development, healthy living and social responsibility." Isralite continues, "Mark's ability to build bridges and develop collaborations that lead to action and results is impressive and very much in line with the direction of our Board and organization."
The Board engaged the executive search firm of Moriarty/Fox, Inc. (based in Chicago) to assist in the search. More than 80 applications were received and the Board interviewed a number of very strong finalists before making their decision.
For the last 10 years, Mark Dennis (fondly known as Pastor Dennis), has faithfully served as the Senior Pastor of the historic Second Baptist Church in Evanston – the oldest African American Baptist-based congregation on the North Shore. Mark has a deep commitment to the mission and work of the McGaw YMCA as evidenced through his collaborations with the community and the YMCA with such initiatives as: Project SOAR; Pioneering Healthy Communities; and Evanston Cradle to Career. "Mark brings extensive knowledge and experience in fundraising, organizational development, music and the performing arts," Israelite remarked.
Mark also served as: President of The Alford Group, a national consulting firm based in Evanston serving the not-for-profit community; Associate Dean for Institutional Advancement at Howard University School of Divinity; and many NFP Boards. He is the holder of several degrees from Howard University School of Divinity, Bowling Green State University, Morehouse College, and has completed coursework leading to a Ph.D. degree in Professional/Staff Development at the University of Maryland. Mark is a member of Alpha Phi Alpha Fraternity, Inc.; and has 4 adult children and 5 grandchildren.
The McGaw YMCA President/CEO position has been held for more than 10 years by Bill Geiger, who submitted his resignation to the Board of Directors 18 months ago but, at the Board's request, agreed to stay to support enhanced community collaboration efforts and until a highly qualified replacement was found. The McGaw YMCA and the community of Evanston remain grateful for Bill's leadership and commitment.
Mark will transition to his new position over the remainder of 2014 to support smooth leadership changes at both the McGaw YMCA and Second Baptist Church.
###
The McGaw YMCA is an open, charitable membership association that promotes growth in spirit, mind and body through programs and services for all. The YMCA is a cause-driven organization committed to strengthening community through youth development, healthy living and social responsibility. For more information about the McGaw YMCA programs, visit http://www.mcgawymca.org.