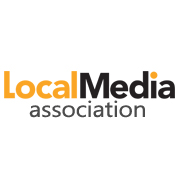 We are thrilled to welcome all local media companies into LMA membership.
Traverse City, MI (PRWEB) April 08, 2014
The Local Media Association has changed its bylaws to create a new class of membership called "Local Media Members." This new class will allow non-newspaper media companies such as TV stations, radio stations, directory publishers, pure plays, and more, to join the association.
LMA President Nancy Lane stated, "We are thrilled to welcome all local media companies into LMA membership. We can quickly showcase new revenue streams and sustainable business models by being all-inclusive. There is common ground on the digital side; we can all learn from each other."
The LMA board of directors spent the last two years analyzing the current membership requirements for the organization and soliciting input from a diverse mix of LMA members. Put to a members vote, the bylaws change passed by a 91 percent affirmative vote.
The bylaws committee was led by LMA Treasurer Suzanne Schlicht, COO of The World Company, the committee also included LMA Directors Bob Brown, president, Swift Communications; Brandon Erlacher, publisher, The Elkhart Truth, and Chris Lee, president, Deseret Digital Media.
"The LMA board has long thought that there is a place for non-newspapers in our organization," said Schlicht. "We agree with our members that there is opportunity in casting a wider net to learn from other local media organizations outside our core industry." Lee added, "LMA has an innovative reputation and isn't afraid to take risks; that's why we joined. This change in membership benefits all local media companies, regardless of platform."
LMA board director Gordon Borrell (and incoming chairman, fall 2015) said, "We live in a time of phenomenal channel expansion. That's led to not only massive opportunity in the media world, but also massive confusion. LMA's vote to broaden its membership creates an environment where we can all learn from the best of the best – not just the best among one type of media. I'm honored, and in fact proud, to be part of such a forward-thinking trade association."
Non-newspaper media companies are no strangers to LMA. Many have participated in LMA programs such as the Google AdWords Certification training (Val Maki, senior V.P., Radio Division/Emmis Communications commented that "Amie Stein's Google AdWords training provided by LMA was intense, engaging and gratifying. She really prepared us well for what we needed to know about Google AdWords."). Many have also attended events such as the Social + Mobile Conference (in conjunction with Borrell Associates and Local Search Association) or the Digital Agency Summit (in conjunction with BIA/Kelsey).
The new class of membership is just one of several key initiatives being launched by LMA this year. "We are expanding our training division and hiring a second trainer," said Gloria Fletcher, president of Sound Publishing and chairwoman of the LMA board, "We are also launching a recruitment/onboarding program to help local media companies find top sales talent. On the conference side, we are undergoing a reinvention process. Our trade shows will be modernized and turned into technology showcases; our 'Fall Conference' has been rebranded to the 'Local Media Innovation Conference.' Expect to see new and different programs and formats. These are very exciting times for LMA. We invite everyone to join the innovation!"
LMA has announced a new hashtag for tweeting about the new membership - #JoinTheInnovation.
For more information go to - http://localmedia.org/Join/MemberBenefits.aspx
The new bylaws go into effect immediately.
About Local Media Association
Local Media Association is a thriving and innovative organization that serves more than 2,200 local news media outlets in the U.S. and Canada. LMA assists local media companies with the digital transition via cutting-edge programs, conferences, webinars, research and more. LMA also offers advanced programs to the entire local media industry such as CareerConnect (recruiting program), the Sales Certification Program and Google Ad-Words Certification Training. In addition, the LMA's Local Media Innovation Alliance offers monthly case studies on emerging trends, new business models and digital revenue growth. For more information on Local Media Association, visit http://localmedia.org.