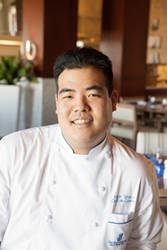 I am excited to share a diverse and personal culinary experience with our guests.
Half Moon Bay, California (PRWEB) April 09, 2014
Kevin Tanaka has been named Restaurant Chef for Navio at The Ritz-Carlton, Half Moon Bay announced Executive Chef Xavier Salomon. Navio features approachable flavors that highlight the best of coastal dining from all around the world and boasts exceptional seafood dishes, all in a comfortable California-inspired design.
"We are thrilled that Chef Tanaka will be leading the team in Navio," said Executive Chef Salomon. "He is an extremely passionate chef and brings a fresh perspective and depth of creativity to his new responsibility. I am convinced that he will make Navio the culinary destination along the Northern California coast," he added.
Navio is uniquely positioned to hyper-locally source produce from the many farms in the Half Moon Bay area. Chef Tanaka enjoys going to the farms and picking fresh produce and herbs and then incorporating them into the menu that evening.
"With the Pacific Ocean in my backyard and access to fresh produce year round, I am excited to share a diverse and personal culinary experience with our guests," said Chef Tanaka. "I look forward to contributing to the resort's amazing culinary legacy and I am excited to share my passion for the many cooking-styles I have enjoyed over the years," he added.
Chef Tanaka brings his own philosophy to the menu at Navio. He grew up in Hawaii, a melting pot of many cultures. He describes his cooking style as French meets Pacific Rim with a California farmer's market influence.
"My menu is ever evolving based on what ingredients are the freshest and at the peak of the season," he explains. "When my fish monger calls in the morning to tell me about what just came in, I can put it on the menu and guests can enjoy it that evening. I like to use the best products available and if the product is incredibly fresh, you really don't need to do much to it to make a fantastic dish. That's really what it's all about," he added.
Chef Tanaka also believes that as a chef you are also a teacher and it is important to instill passion for cooking into your team. To watch his team learn and grow is what truly inspires him.
"When I see them get the perfect sear on a piece of fish or make a sauce perfectly after trying many times and to see them proud of what they are doing really makes it worth it," explains Tanaka.
Chef Tanaka joined The Ritz-Carlton, Half Moon Bay as a kitchen intern in 2005 as quickly was promoted to a line cook in Navio. He continued to learn and grow and has held various positions in the kitchen where he demonstrated his creativity and strong leadership. When not in the Navio kitchen, Chef Tanaka enjoys spending time with his wife and daughter and cruising the coast on his motorcycle. He also likes to go to the area Farmers Markets to see what is in season and can make its debut on the Navio menu.
About The Ritz-Carlton, Half Moon Bay
Situated 23 miles southwest of the San Francisco International Airport, The Ritz-Carlton, Half Moon Bay is a 261-room destination spa and golf coastal hotel. As the San Francisco Bay Area's only oceanfront resort, it is perched atop a rugged bluff overlooking 50 miles of pristine California coastline. The timeless oceanfront estate provides guests with a relaxed yet refined experience for romantic getaways, meetings or special events. For more information or reservations call 800-241-3333, the hotel directly at 650-712-7000, a travel professional or visit ritzcarlton.com/HMB. Visit experiencehalfmoonbay.com to learn more about the destination.
About The Ritz-Carlton Hotel Company, L.L.C.
The Ritz-Carlton Hotel Company, L.L.C. of Chevy Chase, MD., currently operates 85 hotels in the Americas, Europe, Asia, the Middle East, Africa, and the Caribbean. More than 30 hotel and residential projects are under development around the globe. The Ritz-Carlton is the only service company to have twice earned the prestigious Malcolm Baldrige National Quality Award which recognizes outstanding customer service. For more information, or reservations, contact a travel professional, call toll free in the U.S. 1-800-241-3333, or visit the company website at http://www.ritzcarlton.com. The Ritz-Carlton Hotel Company, L.L.C. is a wholly owned subsidiary of Marriott International, Inc.