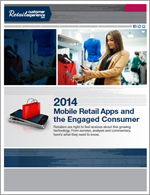 Some of most common questions and popular stories are about retail mobile applications and how our readers can be successful with them.
Louisville, KY (PRWEB) April 08, 2014
Pity the poor retailer: Just when they adapt to one disruptive technology, another comes forward to make them rethink their tactics yet again.
The most recent paradigm-shifter is the mobile application, and many retail executives still struggle to understand how to incorporate them into their user experience—or whether they should even bother.
The questions are worth asking. According to information technology research firm Gartner, mobile apps will have been downloaded 268 billion times by 2017. They will have generated $77 billion in revenue for their deployers. And users will be providing streams of personalized data to more than 100 apps and services a day — whether they know they are doing so or not.
Hoping to help retailers survive and thrive in the mobile app world, Retail Customer Experience and sister site Mobile Payments Today have published "Mobile Retail Apps and the Engaged Consumer."
The 59-page report includes sections on best practices, commentaries by some of the leading minds in mobile retail applications, a directory of providers from multiple countries and of special interest, a survey of 1,000 consumers about their habits, preferences and recommendations when it comes to mobile apps in the retail space.
"Some of the results were really surprising to me," said report author Joseph Grove, a veteran B2B journalist and former senior vice president and executive editor for the publisher of Retail Customer Experience. "For example, I didn't expect to be the case that men were more likely than women to be heavy users of mobile retail apps, or that pharmacies would show up so strongly as a popular app category."
The report includes data on mobile wallet and Passbook adoption, consumer concerns regarding mobile app data security, used and desired functionalities, and frustrations. The download of the report includes jpegs of many of the almost 70 charts and graphs, which readers have permission to share with co-workers or apply in presentations.
Commentaries include:

Mike Wittenstein, founder, Storyminers. "The Push for Sophistication Must Drive Value, Function"
Chris McClain, executive vice president, Americas Strategic Industries, SAP. "Unlocking the Power of Mobile in Retail"
Jason Goldberg, vice president, Razorfish. "Mobile Apps Can Pay Off Big"
Jack Philbin, founder/CEO, Vibes. "How to Ensure a Symbiotic Mobile Marketing Strategy."
"Some of most common questions and popular stories are about retail mobile applications and how our readers can be successful with them. This report goes a long way to providing answers," said James Bickers, senior editor of Retail Customer Experience.
More information is available here.
ABOUT RETAIL CUSTOMER EXPERIENCE
RetailCustomerExperience.com is a website devoted to helping retailers differentiate on experience, rather than on price. It is founded on the understanding that retail today is fundamentally different than any other time in its history, and staying competitive requires a new, holistic understanding of customers and how they want to shop.
ABOUT NETWORLD MEDIA GROUP
Founded in 2000, Networld Media Group is a leading business-to-business (B2B) media communications company specializing in digital media, associations and events in the mobile, self-service, digital signage, retail, food service and financial services industries. Online properties include ATMmarketplace.com, DigitalSignageToday.com, FastCasual.com, KioskMarketplace.com, MobilePaymentsToday.com, PizzaMarketplace.com, QSRweb.com, RetailCustomerExperience.com, SelfServiceWorld.com and ChurchCentral.com. The company produces executive summits in the fast casual, retail, ATM and mobile payments industries. Its custom media division develops premium content and marketing services for associations such as the ATM Industry Association.
###