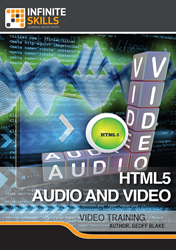 Learn HTML5 Audio and Video at your own speed.
(PRWEB) April 08, 2014
Software training firm Infinite Skills, Inc. last week released its HTML5 Audio and Video Tutorial, a course designed for experienced web developers, teaching how to encode multimedia files into web pages, and ensure reliability across a variety of browsers, platforms, and devices.
HTML is the markup language used for structuring and presenting content on the web. The latest version, HTML5, contains a variety of improvements in its ability to incorporate multimedia directly in the language itself without the need for external frameworks necessary, for instance, when working with the Flash format.
Infinite Skills' "HTML5 Audio and Video Tutorial," provides advanced training in HTML5, demonstrating how to use these multimedia features, as well as how to ensure sites and files are accessible and reliable for a broad range of browsers and devices.
HTML5 Audio and Video Training Video - Streaming
Course author Geoff Blake has more than fifteen years' experience in software training for graphics and web design. In addition to his numerous video titles, he has taught at the university level, authored one technology training book, and regularly writes articles for some of the top magazines and journals in the graphics and web design industry.
Following an introduction to the inclusion of multimedia in HTML, where Blake explains the former use of containers and the current mode of browser support for audio and video files, Blake dives into the basics of inserting audio and video files in HTML5. He explains how to set playback dimensions, set up fallback formats, preload web videos, and much more.
From there, Blake looks at additional considerations for websites' multimedia framework, explaining how to provide Flash fallback for supporting your content in older browsers, add subtitles and captions, and how to incorporate responsive elements so that video files will play properly on mobile devices.
The course concludes with a chapter on encoding media for HTML5 projects, where Blake looks at encoding video using Handbrake, and using audio with the popular VLC media player.
"In this video, we'll be working with HTML5 audio and video," Blake says. "You'll learn how to get audio and video functioning in a variety of environments, platforms, and devices, and what you need to do to achieve optimal functionality."
Free demo videos and a full list of course contents can be found on the HTML5 Audio and Video training page of the Infinite Skills website:
http://www.infiniteskills.com/training/html5-audio-and-video.html
Infinite Skills offers its HTML5 Audio and Video Tutorial as a direct download from the company website at a retail price of $24.95. All titles and formats are compatible with Mac and Windows operating systems. Shipping is available around the globe. Additionally, Infinite Skills tutorials are supported by project files which correspond to examples in the videos, allowing users to work alongside experienced instructors right on their computer or iPad.
About Infinite Skills Inc.
A leader in the field of software training, Infinite Skills designs its courses on a task-oriented model, teaching complex skills by providing hands-on examples and guiding users as they carry out essential functions. Infinite Skills offers a wide range of software titles available as DVDs, digital downloads, and in iPad editions. Infinite Skills now offers a subscription service, providing access to all its training content for a monthly fee, keeping with company's aim of delivering professional training to customers anywhere they want to learn.