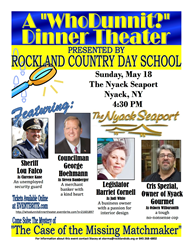 Congers, NY (PRWEB) April 29, 2014
On Sunday, May 18, 2014 Rockland Country Day School is presenting a Whodunnit Dinner Theater at The Nyack Seaport. The event filled with mystery and fun will begin at 4:30 PM. The Whodunnit Dinner Theater featuring Sheriff Lou Falco, Rockland County Legislator, Harriet Cornell, Clarkstown Councilman, George Hoehmann, Assistant County Attorney, Barbara Wilmit, Chris Spezial, owner of Nyack Gourmet, and many other guest actors.
The evening will include cocktails & hors d'oeuvres at 4:30 PM. Dinner & Production at 5:30 PM and a Live & Silent Auction. Rockland Country Day School invites you come to help us solve the case of the missing matchmaker and figure out "Whodunnit?"
Is Sheriff Lou Falco as Clarence Kane to blame? Or the County Legislator, Harriet Cornell, as Judi White? Is George Hoehmann as Steven Bamberger responsible? Maybe the Assistant County Attorney, Barbara Wilmit, as Heidi Evans…Join us as Sherlock Holmes and find out the perpetrator! Tickets for this event can be purchased online at Eventbrite.
At Rockland Country Day School we continue to develop stronger ties between the education and business communities in Rockland County. We greatly appreciate the support and participation of our community.
About Rockland Country Day School: Rockland Country Day School brings forth the best in every student by knowing and educating each of them as an individual. The pillars of our college preparatory program are critical thinking, creative expression, and the cherishing of diversity. Our unique environment enables every child to thrive, both academically and socially. For more information or to register please visit rocklandcds.org or call us at 845-268-6802.