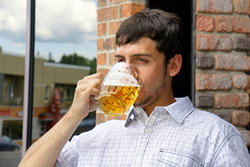 What makes the Alcohol Awareness Month so important is the effects on young people and the dangers young people face when dealing with alcohol.
Canadian, OK (PRWEB) April 07, 2014
April is Alcohol Awareness Month. Started in 1987 by the National Council on Alcoholism and Drug Dependence, the month has been used to help raise awareness for the dangers of alcoholism. The awareness month is recognized in April because it's the start of prom season with graduations following soon after. The theme for this year's Alcohol Awareness Month is "Help for Today. Hope for Tomorrow." The awareness month kicks off with an Alcohol-Free Weekend on April 4-6. With students and young people being the most at risk for making bad decisions with alcohol, "Help for Today. Hope for Tomorrow" is an apt and needed statement.
The Effects of Alcohol
Alcohol abuse is estimated to have a negative impact on 25% of children in the United States. This is because 75% of domestic abuse occurs with the attacker being under the influence of alcohol. Family members with an alcoholic in their midst use healthcare services twice as much as families without the influence of alcohol. Also, 16,000 deaths are caused every year by drinking and driving related accidents with several thousand more injured yearly.
Teens at Risk
What makes the Alcohol Awareness Month so important is the effects on young people and the dangers young people face when dealing with alcohol. Every day, an estimated 7000 kids under 16 year-of-age take their first drink of alcohol. Teens that drink under 15-years-of-age are four times more likely to become alcoholics later in life than kids who wait until they turn 20. Progressing up in age, 1700 college students in America are killed every year from injuries where alcohol was involved. Underage alcohol consumption costs around $62 billion worth of losses due to healthcare use, missed employment and damages.
How to Take Action During Alcohol Awareness Month
The most effective impact you can make is spreading the word and facts about alcohol abuse to those around you. Telling people about ways to prevent alcohol use in minors and preventing alcoholics from turning to alcohol are extremely important. It helps to create a culture within your area of influence that promotes freedom from addiction and healthy lifestyles.
Furthermore, talk to those people at risk the most and encourage them to make small changes to their lives to prevent alcoholism. Ask that they track their alcohol consumption and set limits on how much alcohol they actually consume.
Talking About Addiction the Right Way
It's important to understand that while dealing with alcoholics and anyone under the influence of addiction and habit-forming substances, it's easy to make the addict feel uncomfortable about their problems and thus try to hide. Most people aren't proud of their problems and are trying to find a way out regardless of how effective their efforts may seem. During Alcohol Awareness Month, reducing the stigma related with alcoholism is important. In order to ensure that alcoholics dealing with a problem can handle their addiction, they need help and shouldn't be trying to hide their issues.
Narconon Observes Alcohol Awareness Month
Narconon Arrowhead is a rehabilitation center that cares deeply about the effects of addiction on our society's well-being. Narconon observes the awareness month and provides services for those in need. Whether it's questions about how to handle harmful situations, getting information about the signs or effects of drug and alcohol abuse or arranging for the care of a loved one under the influence, a visit to Narconon's website or calling any of their centers can be the first step towards a solution.
Narconon posts new information to their site continuously, so to learn more about alcohol addiction, treatment and rehabilitation, visit the site regularly for updates at http://www.narcononarrowhead.org and will be posting a series of articles about alcohol addiction and recovery this month.
References:
NCADD.org - April is NCADD Alcohol Awareness Month - http://www.ncadd.org/index.php/for-the-media/press-releases-a-news-articles/318-ncadd-alcohol-awareness-month
NCADD.org - Alcohol Awareness Month - http://www.ncadd.org/index.php/programs-a-services/alcohol-awareness-month
HealthFinder.gov - Alcohol Awareness Month - http://healthfinder.gov/NHO/AprilToolkit.aspx