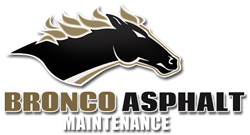 Kalamazoo, MI (PRWEB) April 09, 2014
Kalamazoo area Bronco Asphalt Maintenance enlisted the help of Blue Fire Media to launch their first website. Blue Fire Media chose a responsive web design so that the new website would remain easy to read on any device.
Bronco Asphalt Maintenance provides pavement repair and expert sealcoating for residential and commercial locations. When closing a business is not an option while pavement work is being completed, Bronco Asphalt Maintenance sequences the lot into smaller sections to keep businesses open and traffic flow efficient.
Bronco Asphalt Maintenance's website is easy to navigate and find information. The website lists individual services provided and features before and after pictures of featured work. Also included is a "Frequently Asked Questions" tab that is a completely expandable/ collapsible menu to eliminate any excessive or unnecessary scrolling.
The new website also allows customers to complete a free quote request or submit a question at their convenience. Equipped with spam-blocking software, Bronco Asphalt Maintenance's website helps focus on potential customers instead of being bombarded with spam submissions.
Located in Kalamazoo, Bronco Asphalt Maintenance has provided pavement services to the West Michigan area since 2008. Working with commercial and residential customers, Bronco Asphalt Maintenance strives to get all work completed with as little disruption as possible. Visit http://www.broncoasphalt.com to see all offered services and request a free quote. When it comes to asphalt, "We got it covered."
Blue Fire Media is a Kalamazoo area web design company that specializes in developing profitable website solutions, while simultaneously simplifying the entire process. Additional services include SEO, Internet marketing and social media marketing. To see everything Blue Fire Media provides, head to http://www.bluefiremediagroup.com.