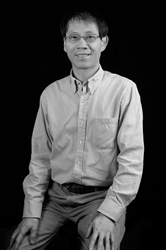 "This research increases our understanding of what the world's leading violinists need from their instruments," says Mr. Tao.
FARMINGDALE, NY (PRWEB) April 11, 2014
D'Addario, the world leader in musical instrument accessories, continues its efforts to nurture the music realm by assisting with important research involving the comparison of new violin makers against antique violins by Stradivari and other renowned, Italian violin makers. This important study ultimately confirms the result of a paper published in 2012 in PNAS (Proceedings of the National Academy of Sciences) that challenged the wide-spread belief that Stradivarius violins and violins by other Old Italian makers have tonal qualities that cannot be found in new instruments.
This important study, published this week in PNAS, was led by French scientist Claudia Fritz and U.S. violin-maker Joseph Curtin. The scientific team also brought together experts in a number of fields, including Fan-Chia Tao, String Designer at D'Addario & Co., along with violin soloist, Hughes Borsarello, statistician, Jacques Poitevineau, and violist/instrument dealer, Thierry Ghasarossian.
The new violins used in the study were built by professional makers in the United States and Europe and were between several days old and ten years old. The Stradivarius violins were built after 1712, well into Stradivari's purported "Golden Period." The exact identities of the test violins, both new and old, remain confidential.
For this experiment, ten renowned violin soloists, including past winners of the Tchaikovsky, Paganini, and Sibelius competitions, blind-tested six new and six old violins, including five Stradivarius violins. The soloists in the study included Olivier Charlier (France), Pierre Fouchenneret (France), Yi-Jia Susanne Hou (Canada), Ilya Kaler (USA), Elmar Oliveira (USA), Tatsuki Narita (France), Solenne Païdassi (France), Annick Roussin (France), Giora Schmidt (USA), and Stéphane Tran Ngoc (France).
The surprising findings revealed that the most-preferred violin was new, and players were unable to tell new from old at better than chance levels. After evaluating instruments in both a rehearsal room and a concert hall, the soloists were asked to choose the instrument that would best replace their own for a hypothetical concert tour. Six of the ten soloists chose new instruments. The single most-preferred violin was new.
"As a player, it is good to know that the tonal qualities of Stradivarius violins are not unique and can be found in new violins," says Mr. Tao of D'Addario. "This helps explain why the soloists could not tell the age of a violin based on its tonal qualities, even though they readily separated the instruments they liked from the ones they did not."
On average, new and old violins were rated about equally in terms of timbre, but new violins were rated more highly for playability, articulation, and estimated projection. The soloists found the overall quality of the test instruments, both new and old, to be as high, or higher, than that of their own violins (seven of which were Old Italians). While the soloists readily separated violins they liked from those they did not, they were unable to tell new from old at better than chance levels.
"This research increases our understanding of what the world's leading violinists need from their instruments," continues Mr. Tao. "In addition, this knowledge helps D'Addario design better strings and accessories for musicians."
During the tests, the violinists wore modified welders goggles, which, together with very low ambient lighting, made it impossible to identify instruments by eye. Soloists used their own bows throughout the study and were encouraged to compare test violins with their own instruments whenever they wished. During sessions in the hall (Auditorium Coeur de Ville in Vincennes, which is renowned for its excellent acoustics), soloists had the option of playing with piano accompaniment, getting feedback from a chosen listener, and hearing the violins played by another soloist.
Two further papers based on this study are anticipated. The first covers projection in the hall. The second explores correlations between player/listener evaluations and acoustical measurements of the test violins.
D'Addario is committed to fostering music and inspiring performance in musicians worldwide. For more information on the study, visit Joseph Curtin's website at http://www.josephcurtinstudios.com and Claudia Fritz's website at http://www.lam.jussieu.fr/Membres/Fritz/HomePage/index.html.
To learn more about D'Addario, go to http://www.daddariobowed.com.
D'Addario & Company, Inc. is the world's largest manufacturer of musical instrument accessories marketed under seven product divisions: D'Addario Fretted, D'Addario Orchestral, Evans Drumheads, Promark Drumsticks, Puresound, D'Addario Woodwinds, and D'Addario Planet Waves Accessories. A family-owned and operated business with more than 1,100 employees worldwide, the company manufactures 95% of its products in the U.S. employing Toyota's Lean manufacturing principles. D'Addario has a distribution network in 120 countries and serves more than 3,000 U.S. retailers, all major e-commerce sites, and more than 3,000 endorsing artists.