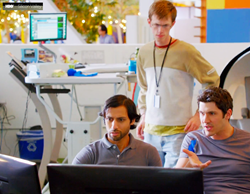 San Jose, CA (PRWEB) April 07, 2014
Art imitates life and no where was that more apparent than in last night's premier of HBO's raucous new hit comedy series 'Silicon Valley'. Set among the characters, props and settings of the technology world's epicenter 'Silicon Valley' provides a humorous insight into the dynamics and lifestyles of the world's most famous technology haven. Lampooning the absurdities, challenges and excesses bred by tech success 'Silicon Valley' also provides a compelling window into a multi-faceted cauldron that is currently re-shaping the future of the modern world.
The props on the show are as compelling as the dialogue and the settings, including the headquarters for the protagonist's day job which incorporates a unique way to stay active during the day while writing code: a TrekDesk Treadmill Desk.
TrekDesk has been featured on many network shows in the past including The Good Wife, Weeds, The Steve Harvey Show, and The Today Show but its appearance on 'Silicon Valley' seemed the most appropriate to TrekDesk employees. "TrekDesk received its initial recognition and popularity amidst the technology innovators and leaders of the real Silicon Valley five years ago, so it was amazing to all of us that the show's producers were that detail oriented to include a TrekDesk treadmill desk in the office set," stated Steve Bordley, CEO of TrekDesk Treadmill Desk. "TrekDesk is iconic because it too is essentially a start-up trying to make a real difference in the health of the world. Honestly though, the thrill of seeing TrekDesk on the show was overwhelmed by how much we were laughing during the segment. This show is a hit."
More major network television appearances are on the horizon for TrekDesk as well as it continues to work its way into the public's consciousness. Look for TrekDesk to appear again on the Fox Network toward the end of this month on one of the nation's most popular television series. "TrekDesk has helped propel the notion that there truly is an alternative to sitting at a desk all day even if you can't leave it. That is our mission at its heart and a source of great satisfaction for us," Bordley added.
To learn more or watch "Silicon Valley" :http://www.hbo.com/silicon-valley#/.
Designed to fit any existing treadmill TrekDesk treadmill desk is an affordable, full sized, height adjustable workstation that allows individuals the opportunity to gain the necessary amount of daily exercise to lose weight, maintain health, reduce stress, prevent disease, strengthen muscles, boost mood and productivity, without requiring additional time during the day or extra motivation.
Join the TrekDesk "Movement Revolution" to learn more, spread the gospel regarding movement, or win a free TrekDesk http://www.facebook.com/trekdesk, or follow TrekDesk on twitter http://www.twitter.com/trekdesk. TrekDesk treadmill desk is currently available for sale online at http://www.trekdesk.com.