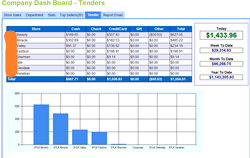 Cloud, on premise or hybrid. Make precise business decisions using real time data.
(PRWEB) April 23, 2014
Retailers looking to implement a realtime retail management system can look to Realtime POS with a choice of a private cloud or on-premise solution. Real Time POS provides a private cloud hosted, highly scalable point of sale and retail management system that delivers complex, mission-critical functions that are necessary in today's competitive retail market. Realtime POS serves a variety of retail segments, including apparel, boutique, furniture, gifts, sporting goods, automotive aftermarket, jewelry and more industries.
Retailers in today's market need instant access to critical operation data to make quick and decisive adjustments to inventory quantities, order levels, fulfillment, purchasing and staffing decisions. Real Time POS provides all the tools necessary to effectively manage every aspect of the retail organization in real time. Every transaction, inventory movement or adjustment and employee action is streamed instantly to and from the Head Office live.
Features like the business intelligence provides an easy way to design reporting templates. Report templates are saved on local computers. Reports can be exported to several formats for analysis. Realtime stock transfers and quantity on hand eliminates mistakes when it comes to inventory transfers and special order processing. offline operation, allows retailers to operate in offline mode if for any reason the store's internet connection is lost. All data collected during that time is saved and then streamed to the head office once connection is reestablished.
Engineered on the extremely scalable n-Tier Architecture (Microsoft .Net & SQL Server), more than capable of handling one, one hundred or one thousand locations. Automatic software updates are included in the software and are applied in the background; no restarting required. The head office can also send out instant data Updates, which instantly updates data to every location with the single click of a button, and all data is backed up and secure in our private cloud.
Realtime POS operates on the Microsoft windows operating system, an IPAD mPOS is in the works with a beta release scheduled for early part of 2015.
Cloud, on-premise or Hybrid provides maximum flexibility all wrapped around a well engineered retail management solution.