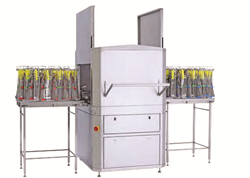 Carometec and ITEC are known for their high quality industrial sanitation equipment and now we have added our Cleaning and Sterilizing Machine for Knives and Safety Gloves. - Jeb Supple of Carometec
Peosta, Iowa (PRWEB) April 09, 2014
Carometec, a leader in manufacturing sanitation equipment, which assists small to large food plants in meeting quality-assurance standards around the world, recently introduced a new industrial knife cleaning machine. Safety gloves can also be hygienically cleaned in this machine, as an added bonus. In keeping with its commitment of manufacturing only the highest-quality sanitation equipment on the market, Carometec offers this new state-of-the-art sanitation device that not only provides extreme cleaning techniques, but saves plant owners money.
A pilgrim-step process is used inside this innovative industrial knife cleaning machine in which a series of repeating water jets clean and sanitize knives that are held in place by secure knife holders. A special system of rotating nozzles ensures the highest level of commercial cleaning while also preventing food borne illnesses.
Because rotating nozzles are employed within this machine, tough-to-reach locations, such as knife shafts, or particularly dirty safety gloves, can receive a thorough cleaning and sanitization. Laterally-arranged power spray rotors, along with extremely powerful nozzles, target problem areas on knives and safety gloves. The result is the finest in industrial cleaning in a minimum of time, which involves savings to the food plant customer.
This long lasting and ruggedly-built machinery was engineered not only to give customers a long life with a minimum of maintenance, but also a completely automated and contemporary industrial knife cleaning experience. Skilled workers using the knives and safety gloves aren't involved with their cleaning, thereby saving valuable time spent on the plant's production. Ultimately, the food plant's financial bottom line receives a boost with more efficient food plant operations.
"Carometec and ITEC are known for their high quality industrial sanitation equipment and now we have added our Cleaning and Sterilizing Machine for Knives and Safety Gloves," said Jeb Supple of Carometec. "We are very excited about this new product."
Customization is now possible with this new piece of sanitation equipment by installing it in a push-in and push-out equipment handling method, or in a push-through system of operation, utilizing any of the machine's connecting series of ready-fit trolleys. This unit contains 16 knife holder units and the inclusion to sanitize safety gloves. Preset cleaning programs are selected with a program selector switch. These cleaning programs can be adjusted, ensuring the optimum in sanitation based upon in-plant needs.
The Carometec industrial knife cleaning machine is a perfect answer to food processing plants that want the finest in sanitation equipment for their knives and safety gloves. For more information, or to purchase this new piece of sanitation equipment, please visit the Carometec website at http://www.carometecusa.com, or call us at 563-582-4230.