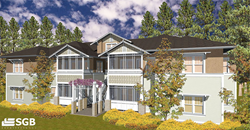 This is a great day, an historic day for this community
Shreveport, LA (PRWEB) April 08, 2014
The residents of the historic community of Allendale came out in force today to celebrate the start of a revitalization effort that will bring new affordable housing to a vacant parcel of land where the Jackson Heights public housing complex once stood, with the event signaling an important break from the pattern of disinvestment and population flight this urban neighborhood has seen in recent years.
City, state and federal officials joined with neighbors, church members, and other stakeholders to break ground on The Renaissance at Allendale, the first new housing to be built in this community by the Housing Authority of the City of Shreveport in more than 30 years.
"This is a great day, an historic day," said Richard Herrington, Jr., HACS' Executive Director. "We are so proud to be leading the revitalization of this community with a beautiful new rental property that will bring new affordable housing opportunities—as well as new jobs—to Allendale families." Herrington added that The Renaissance of Allendale Phase 1 is just the beginning of a comprehensive multi-phase development plan that will ultimately bring 120 new affordable homes to this area.
Developed by HACS and its private sector partner, The Michaels Development Company, The Renaissance at Allendale will offer 20 two bedrooms and 20 three bedrooms, all affordable to families earning less than 60 percent of the area's median income. Ten of the units will be reserved for public housing residents. Amenities will include a community center with space for social services, and a playground.
"This development is a tangible sign of the City's commitment to this neighborhood and to enhancing the lives of our residents, by providing modern, quality, energy-efficient affordable housing," said Shreveport Mayor Cedric Glover.
Financing for the $7.7 million Renaissance at Allendale includes $5.3 million in private equity raised through the sale of federal Low Income Housing State Credits, $618,000 in HOME funds provided by the Louisiana Housing Corporation, and more than $1.3 million in equity provided by the Housing Authority of the City of Shreveport. The Community Bank of Texas provided construction financing, and the tax credits are being syndicated by Prestige Affordable Housing Equity Partners, LLC.
Additional partners include Jones Walker, LLP as Development Counsel for the HACS, EJP Consulting Group, LLP as the HACS financial advisor, the general contractor, Prestige Building Company, and Louisiana-based SBG Architects, LLC. Interstate Realty Management Company will provide property management services, ensuring that The Renaissance at Allendale will remain a long-term asset to the community.
About HACS
The Housing Authority of the City of Shreveport (HACS) provides quality affordable housing to low-income families and individuals through the effective and efficient administration of housing assistance programs. Established in 1940. HACS is governed by a five-member Board of Commissioners. Each commissioner is appointed by the mayor and confirmed by the City Council. HACS is responsible for overseeing the management of more than 4600 housing units scattered throughout the city of Shreveport.
About The Michaels Organization
The Michaels Development Company, Interstate Realty Management, and Prestige Building Company are all part of The Michaels Organization, a family of integrated but independent companies dedicated to excellence in affordable, military and student housing. Serving more than 100,000 residents in 360 communities across 34 states, the District of Columbia, and the U.S. Virgin Islands and with a development portfolio valued in excess of $ 3.5 billion, The Michaels Organization is a national leader in the residential real estate industry, with full service capabilities in development, property and asset management, construction, mortgage finance, and tax credit syndication. Visit http://www.TheMichaelsOrg.com for more information.