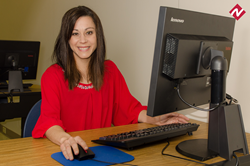 I chose Northark because of the affordable tuition, partnership with Arkansas Tech University and class offerings that allow me to stay at home and spend quality time with my family.
Harrison, AR (PRWEB) July 08, 2014
Alysha Burleson, a non-traditional student from Lead Hill sits in the Northark Library completing her online coursework. You might think it odd that a student takes online courses and comes to campus to study. A mother of two daughters, Jalen, 8 and Cambria age 4, Alysha enjoys the solitude provided by finding a quiet corner to concentrate and enjoy the high speed wireless internet access at Northark. She is enrolled in a blend of online and on-campus classes as she works toward achieving her dream of becoming a teacher. She is in the Arkansas Tech Early Childhood Development transfer program at Northark.
Her husband, Dustin earned a Machine Shop Certification from Northark's Technical campus and works at Micro Plastics in Flippin.
Juggling the roles of mother, wife and student has been a challenge. Making the decision to come back to college was a leap of faith for her. Online courses blended with on-campus classes provided the answer to meeting the demand of succeeding in her coursework, while raising a young family.
"If I need to take the kids to a doctor's appointment, I have the flexibility to do that and work on homework after I've put them to bed instead of missing on campus class time," Alysha says. "I looked at other programs in the area, and Northark's partnership with Arkansas Tech was the most affordable choice and the education I've received has been top notch. Most importantly, I can spend more time at home with my family."
In April, the Higher Learning Commission approved a proposal from North Arkansas College located in Harrison to expand to 100% online delivery of 14 programs currently offered through distance education. The Arkansas Higher Education Coordinating Board approved Northark's proposal last fall.
"Northark is now one of only 5 of the other 22 community colleges in Arkansas offering an online degree through online delivery," Dr. Jackie Elliott, president noted. "This is a historic moment. It's also very befitting to offer the online degree 40 years after the Northark opened in 1974." The Harrison College is celebrating its 40th Anniversary in 2014.
This approval opens the door to expanded opportunities to allow students to attend college from any location with internet access using computers, laptops, tablets or even mobile phones.
Northark's first online course was offered in 1999. The College has expanded online course offerings over the years and currently provides a selection of 47 courses this fall.
From the perspective of the institution, this type of delivery allows a more efficient deployment of resources. Beyond brick and mortar structures, the "virtual campus" reaches beyond Northark's six county service area in Northern Arkansas.
Online courses aren't for everyone. Those who desire face-to-face interaction may gravitate toward a hybrid course which has a combination of online and in-person learning. "It takes a lot of dedication and preparation to take online courses," Alysha says. "I've made friends with my online classmates through email communications, we text each other and we've formed a great support group. My interaction with the instructor has been pleasant and I receive answers promptly."
The social interaction conducted through online media has become a very important part of learning. Individuals are more comfortable communicating in this manner than just a couple of years ago.
Many fear being seated at home behind the computer will result in becoming lost in space.
"Every student at Northark is afforded opportunities for tutoring and support and they can be assured they will receive individualized attention," says Nikki Davidson, director of online learning. "Northark utilizes the Brainfuse Online Learning System to provide live, on-demand online tutoring support from certified tutors in a variety of college subjects. Services like our Student Support Services, Learning Commons, and Advising Center utilize telephone and internet communication technologies to maintain contact with students who cannot come to campus."
Northark uses a web-based campus-wide "portal" system to communicate with students and provide course information. Instructors of online and blended (hybrid) courses use the portal extensively to communicate with students, to help students communicate with each other, and to deliver course content. Students who enroll in a blended or online course must first complete an Orientation for Online Learners course in order to understand the online course environment.
This course includes delivery of course content and interaction with instructors and other students.
Developing and organizing successful online courses isn't easy. Nikki Davidson, director of online learning works with faculty to ensure students receive a high quality educational experience.
"In order to deliver an online or blended (hybrid) course, Northark faculty members must complete a comprehensive training program. Each online course offering undergoes an internal peer review process for new and existing courses to ensure that curricular standards are met. Every course and instructor adheres to the Online Learning Procedures set forth by the Northark's Online Learning Committee, a sub-committee of Faculty Senate," Nikki explained.
Northark's future plans for online learning align directly with the college vision. Innovative technology, continuous improvement and quality instruction are key components of the online learning program. Northark has offered online courses for several years, with the recent approvals from ADHE and HLC, additional access for students to complete full programs of study through the online delivery format will be available.
Nell Bonds, dean of community outreach commented about future distance education opportunities, "As a newly approved Digital Learning Provider in the state, Northark will seek partnerships with area schools to provide new opportunities to deliver online concurrent credit courses to prospective high school students as we grow the online learning program. Current and future partnerships for degree completion with four-year universities will allow Northark to cultivate and grow digital learners from high school through their bachelor's degree. As those learners enter the workforce, Northark will continue to support their professional development through online professional and workforce training."
Burleson says, "I think its great Northark offers distance education. Fayetteville is a couple of hours away, Springfield, an hour and a half, and Arkansas Tech even further. Learning online is especially great for older students with families that don't want to leave home."
A Northark education provides excellent instruction at an affordable price. Out-of-State students can take online courses at $174 per credit hour.
Enrollment for the fall semester at Northark continues through August 19. A full list of classes offered is available on Northark's Schedule Search feature at http://www.northark.edu. To set up an advising appointment, tour campus or request more information visit http://www.northark.edu/future_students/admissions.aspx or call (870) 391-3505.