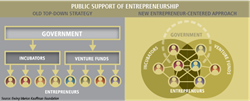 Kansas City, MO (PRWEB) April 10, 2014
Citing research that highlights the vital importance of new, young and growing companies to the economy, the Kauffman Foundation today issued an Entrepreneurship Policy Digest that highlights a new approach to promoting entrepreneurship at the state and local level.
The Policy Digest states that the traditional approach of investments and incubators is ineffective in promoting entrepreneurship and suggests implementing a new plan that includes an entrepreneur-centered approach.
The new approach in the Policy Digest recommends the following:
Cultivate Networks and Support Across Entrepreneurial Stages

Offer connections with potential mentors, networks for learning and emotional support from peers at all stages of the entrepreneurial process.
Draw attention to organizations that bring together experienced and inexperienced entrepreneurs to test ideas.
Reinvent Investments and Incubators

If a public venture fund has already been established, distribute many smaller prizes, instead of one large prize, so that a group of entrepreneurs can become a cohort and learn from one another.
If incubators already exist, reorganize them to connect entrepreneurs and enhance peer-learning.
Let Entrepreneurs In

Reexamine professional and occupational licensing, which act as barriers to entrepreneurs seeking to bring new innovations and business models to market.
Welcome immigrants, who are more than twice as likely as native-born Americans to start businesses.
Let Entrepreneurs Compete

Simplify tax codes and payment systems so they are easier for entrepreneurs to understand.
Rethink non-compete agreements, which disrupt entrepreneurship by erecting barriers to the free movement of individuals.
Measure Progress

Collect data to track progress and inform policymaking, making sure to catalog all areas of entrepreneurship.
The Kauffman Foundation's Policy Digests consist of summaries of findings around relevant policy issues that will inform and educate policymakers. To read the entire Policy Digest on the dos and don'ts and to sign up to receive subsequent Digests, go to http://www.kauffman.org/policydigest.
About the Kauffman Foundation
The Ewing Marion Kauffman Foundation is a private, nonpartisan foundation that aims to foster economic independence by advancing educational achievement and entrepreneurial success. Founded by late entrepreneur and philanthropist Ewing Marion Kauffman, the Foundation is based in Kansas City, Mo., and has approximately $2 billion in assets. For more information, visit http://www.kauffman.org, and follow the Foundation on http://www.twitter.com/kauffmanfdn and http://www.facebook.com/kauffmanfdn.