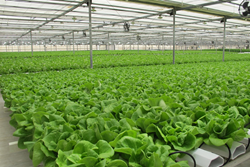 'We are exploring some very promising sustainable nutrient sources to deliver in our systems,' said Christian. 'We should have some very exciting developments available by the end of this year.'
Arcata, CA (PRWEB) April 10, 2014
American Hydroponics (AmHydro) is celebrating 30 years as a leader in hydroponic farming technology. Over the past three decades, AmHydro has established itself as a leader in growing with hydroponic systems supporting growers in 44 countries and throughout the United States. This kind of market share is only attained by selling and supporting the best, American made, systems in the industry.
In an ever-changing agricultural landscape, now more than at any other time in human history, the need exists for localizing a safe and reliable food supply that utilizes water and minerals efficiently. Greenhouses with hydroponic systems can be erected on parking lots if need be; they are not soil dependent.
When asked what separates AmHydro from other hydroponic equipment manufacturers, Michael Christian, President and CEO of American Hydroponics, had two words, "Grower support. We have 30 years in the industry and a highly experienced staff. We use all our experience to help our growers reach the maximum product yield at lowest cost. Our mandate is simple: make our growers successful, whatever it takes."
In 1984, Michael Christian co-founded American Hydroponics after discovering a need to further develop soilless horticulture in the commercial marketplace. He traveled to Australia, worked with amazing hydroponic growers, and realized how the commercial applications of hydroponic farming could revolutionize the way food is cultivated in the United States. Michael became one of the key players responsible for bringing Nutrient Film Technique (NFT) to North American greenhouses and establishing it as one of the most productive techniques-of-choice in the commercial horticulture industry.
AmHydro has come up with a winning formula to train growers in hydroponic farming. "We have a model to work with clients, to make them successful, right out of the gate, this is the AmHydro difference," remarked Christian. "Making sure our client/farmers are successful is paramount to our operation; localized food production is market dependent. If that's not in a growers training, our farmers go out of business and that's unacceptable."
The American Hydroponics Difference: Productivity, Ease of Use and fast ROI
One key to an AmHydro system is their indestructible growing channels. The current channel they produce is made from HPDE, High-Density Polyethylene, the same plastic used to make milk jugs. HPDE does not contain BPA or produce any chemical byproducts at any temperature making it the safest (USDA approved) plastic product for food production on the market.
Hydroponic farming represents a major leap forward in growing technology. Growing plants in water instead of dirt allows farmers to urbanize crop production. When a plant is grown in soil, the roots have to seek out nutrients thereby expending more energy. In an NFT hydroponic system, the plants' roots are grown in a mineral and oxygen rich nutrient solution and do not require large root systems. Therefore, plants grow 25% faster. This allows an established hydroponic farm to average 20-24 crop turns a year. By comparison, a traditional soil based farm average expects 4-5 crop turns a year. Additionally, a hydroponic farm uses 90% less water as all water and minerals are re-circulated.
American Hydroponics has pioneered hydroponic farming technology through experience and impeccable customer service. When asked what the next 30 years hold for this industry leader, Michael Christian expressed a very clear vision for the future. "Minerals are a limited natural resource; one day they will be mined out. We are exploring some very promising sustainable nutrient sources to deliver in our systems. We should have some very exciting developments available by the end of this year."
About American Hydroponics:
American Hydroponics of Arcata, Calif. provides state-of-the-art crop performance products and services for people to grow crops successfully, year-round for pleasure and profit in any environment, with an emphasis on conserving resources. American Hydroponics, cofounded in 1984 by Michael Christian, is known for its innovation by leading the industry with easy-to-use, high-performance horticultural products, greenhouse supplies, resource conservative equipment and knowledge. Their commercial products are 100% American Made, and are being utilized in 44 countries and all across the US.