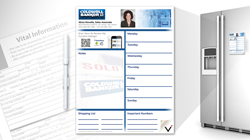 Calendars, coffee cups and pens may have worked in the 80's, but not in today's interactive world.
St. Louis, MO (PRWEB) April 09, 2014
Vitalboards has introduced a promotional marketing tool that promises to cut through the traditional clutter and not end up in the trash. "Calendars, coffee cups and pens may have worked in the 80's, but not in today's interactive world," states Jeff Sullivan, a Vitalboards partner. "Consistent placement of the branded message over the long haul is where advertisers see the greatest return on their investment, and most promotional marketing giveaways simply cannot perform in that capacity," adds Sullivan. To further add to the mix, today's marketing trend is permission based. If the customer did not ask for your product, email or marketing message, it won't get through. And, not getting through translates into no sales.
How to Get a Branded Message Seen, Guaranteed
Problem solved. What if the target audience not only asked for the product, but is likely to view it 10 to 28 times a day? Introducing Vitalboards; a full color, single advertiser branded 8.5" x 11" write on/wipe off magnetic memo board, complete with pen and clip that mounts on the refrigerator door (stainless steel compliant option available). These beautiful boards reside in the highest trafficked room in the house; the kitchen, where the refrigerator is seen an average of 10 – 28 times a day. It's essentially an in-home billboard. QR code placement can link to a host of destinations, such as company site, scheduling site, mobile app, and/or social media channels, maintaining the connection to the end users. Vitalboards can be ordered in bulk to be used as giveaways or as a turnkey, targeted mailing program that can hone in on a specific demographic.
This Memo Board Goes on to Saves Lives
The Vitalboard memo board is a valued product that customers will use over and over again to write notes, track appointments and use as a handy reminder or grocery list. The back of the board however is the "Vital" in Vitalboards. It can actually save the customer's life, or the life of a loved one. The back is used to list vital health information, such as medications, allergies, medical conditions and emergency contacts for members of the household. In case of an emergency, First Responders have access to everything they need to save a life; especially if the person is incapacitated and cannot communicate. A weatherproof decal for your front door is also included, that alerts First Responders to the location of the Vitalboard.
Vitalboards Helps Families of Local Fallen Heroes
In the spirit of paying it forward, Vitalboards donates 5% of proceeds to the National Fallen Firefighters Foundation (NFFF), who supports families left behind by Firefighters who have died in the line of duty.
At under $2.00 each (volume discounts available), the product is highly customizable for any industry and speaks for itself – in quality and care. This is a product that will live on the customer's refrigerator for years to come, unlike other promotional tools that get trashed or are time based, such as calendars.
Learn more by visiting http://www.vitalboards.com or contact a Dealer near you. For more information about the National Fallen Firefighters Foundation (NFFF), visit http://www.firehero.org.
About Vitalboards
Based in a suburb of St. Louis, Missouri, Vitalboards is locally owned and operated, and specializes in innovative, permission based marketing solutions for a wide range of industries that market to consumers. Dealer opportunities welcome. http://www.vitalboards.com.