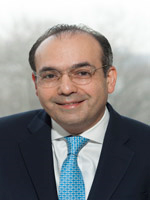 New York, NY (PRWEB) April 09, 2014
New Nephrology Chief Named at NewYork-Presbyterian/Columbia University Medical Center
Dr. Ali Gharavi is a clinician-scientist who focuses on molecular genetics of kidney diseases.
Dr. Ali G. Gharavi, a leading kidney disease researcher, has been appointed chief of the division of nephrology at NewYork-Presbyterian/Columbia University Medical Center. Dr. Gharavi, also an associate professor of medicine at Columbia University College of Physicians and Surgeons and director of its renal physiology and pathophysiology course, joined NewYork-Presbyterian/Columbia in 2003.
The principal investigator on four current projects funded by the National Institute of Diabetes and Digestive and Kidney Diseases of the National Institutes of Health and the New York State Empire Clinical Research Investigator Program, Dr. Gharavi has specific interests in the genetics of kidney disease, including IgA nephropathy and congenital abnormalities of the kidney and urinary tract.
IgA nephropathy is a kidney disorder that occurs when IgA—an antibody that helps the body fight infections—settles in the kidneys, which can cause the kidneys to leak blood and sometimes protein in the urine. It can eventually lead to kidney failure. Dr. Gharavi's work has identified 15 regions of the genome that confer risk of IgA nephropathy and has yielded novel insight into the mechanisms of kidney injury underlying the condition. His other research includes the genetic causes of congenital abnormalities of the kidney and the urinary tract, the most common cause of kidney failure in children, for which he has described several new genetic mutations.
"My objective is to bring personalized genomic nephrology from the laboratory into patient care," says Dr. Gharavi. "Owing to the recent progress in genomic technologies, we now have the opportunity to make a precise genetic diagnosis for many patients and individualize care based on the specific molecular mechanism of disease."
"Dr. Gharavi powerfully combines large-scale genetics studies with biochemical investigations in order to elucidate mechanisms of disease," notes Dr. Donald W. Landry, physician-in-chief at NewYork-Presbyterian/Columbia University Medical Center and the Samuel Bard Professor and Chair of the Department of Medicine at CUMC. "His research program holds great promise for innovative diagnostic tests and novel therapeutics."
Dr. Gharavi is a member of the American Society of Nephrology, International Society of Nephrology, and American Society of Human Genetics. He is the author of 63 peer-reviewed publications in high-impact journals including Nature, Nature Genetics and the New England Journal of Medicine, sits on the editorial boards of the Journal of the American Society of Nephrology and Kidney International, and has been a guest editor of PLoS Genetics. He was a recipient of the Judson Daland Prize for Outstanding Clinical Investigation from the American Philosophical Society and the National Kidney Foundation Clinical Scientist Award and was elected to the American Society of Clinical Investigation.
After receiving his medical degree from George Washington University, Dr. Gharavi completed his residency at Mount Sinai Medical Center and fellowships in hypertension and nephrology, also at Mount Sinai. He then completed a postdoctoral fellowship in genetics at Yale University School of Medicine. He previously held academic appointments at Yale University School of Medicine and Mount Sinai School of Medicine and hospital appointments at Mount Sinai Hospital.
NewYork-Presbyterian Hospital/Columbia University Medical Center
NewYork-Presbyterian Hospital/Columbia University Medical Center, located in New York City, is one of the leading academic medical centers in the world, comprising the teaching hospital NewYork-Presbyterian and its academic partner, Columbia University College of Physicians and Surgeons. NewYork-Presbyterian/Columbia provides state-of-the-art inpatient, ambulatory and preventive care in all areas of medicine, and is committed to excellence in patient care, research, education and community service. NewYork-Presbyterian Hospital also comprises NewYork-Presbyterian Hospital/Weill Cornell Medical Center, NewYork-Presbyterian/Morgan Stanley Children's Hospital, NewYork-Presbyterian Hospital/Westchester Division, NewYork-Presbyterian/The Allen Hospital and NewYork-Presbyterian/Lower Manhattan Hospital. NewYork-Presbyterian is the #1 hospital in the New York metropolitan area and is consistently ranked among the best academic medical institutions in the nation, according to U.S.News & World Report. For more information, visit http://www.nyp.org.
Columbia University Medical Center
Columbia University Medical Center provides international leadership in basic, preclinical, and clinical research; medical and health sciences education; and patient care. The medical center trains future leaders and includes the dedicated work of many physicians, scientists, public health professionals, dentists, and nurses at the College of Physicians and Surgeons, the Mailman School of Public Health, the College of Dental Medicine, the School of Nursing, the biomedical departments of the Graduate School of Arts and Sciences, and allied research centers and institutions. Columbia University Medical Center is home to the largest medical research enterprise in New York City and State and one of the largest faculty medical practices in the Northeast. For more information, visit cumc.columbia.edu or columbiadoctors.org.
# # #